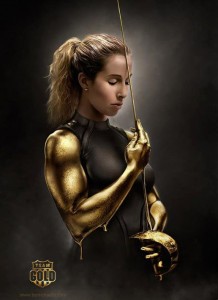 Mariel Zagunis was back in top form this weekend, bringing home an individual gold and leading her team back to the podium with a bronze medal finish.
The 8th annual Challenge Yves Brasseur, held this past weekend in Ghent, Belgium, saw few truly surprising results. American favorite Mariel Zagunis returned to her winning ways with a 15-13 gold medal victory over current world no. 1 Olga Kharlan (UKR), leaving the two fencing powerhouses with only an 8-point difference between them. Rounding out the podium was Aleksandra Socha (POL), who fell to Kharlan 15-10, and Dina Galiakbarova (RUS), who lost in a tight 15-14 bout against Zagunis, but seems poised for a breakout season with her third top-8 finish of the year.
Princeton senior Eliza Stone (USA) probably proved the biggest surprise of the day, pulling off a series of upsets and landing a spot in the top 8. Wins against Galyna Pundyk (UKR) in the T64, 11th-ranked Chen Xiaodong (CHN) in the T32, and Ilaria Bianco (ITA) in the T16 ultimately led to a matchup against Zagunis, but Stone's 7th-place finish marks a career best. This finish earns her 14 points and moves her from 84th-ranked to 49th in the world.
Aside from Stone, there were several other performances of note on Saturday. Lucrezia Sinigaglia (ITA), previously ranked just 114th internationally, posted a perfect record in poules and earned herself a spot in the top 16 – her strongest Senior performance to date – elevating her ranking to 79th. Though far less surprising, Dina Galiakbarova's result – and indeed, her season so far – suggests that she could be one to watch this year. Additionally, 2012 Asian Zonal Champion Yoon Jisu (KOR) posted a strong top-16 finish, despite being a relative newcomer to the Senior World Cup scene, defeating 8th-ranked Dagmara Wozniak (USA) before losing to perennial contender Gioia Marzocca (ITA).
2012 Olympic gold medalist Kim Jiyeon (KOR) returned to the international scene for the first time since her win in London, placing 9th after a loss to eventual bronze medalist Galiakbarova.
With Kim's return she remains at 3rd in the international standings, leading Sofia Velikaia (RUS) by 29 points. Velikaia has yet to compete since the conclusion of the London Games, but will almost certainly be returning to lead an already-strong Russian team in the coming days. Likewise, 9th-ranked Zhu Min (CHN) and 10th-ranked Azza Besbes (TUN) have been notably absent as competitors since the Olympics, but with a slew of competitions ahead, will be posting results soon enough.
On Sunday, Kim and her teammates, Yoon and Lee Rajin, took gold over an Italian squad led by Bianco, Marzocca, and Irene Vecchi. With dominant performances nearly all day, including a 45-35 win over the American squad in the semifinals, the South Korean team continues to be a force to be reckoned with.
Team USA faced Azerbaijan for bronze after victories against Venezuela (45-24) and Hungary (45-24) and their loss to the indomitable Korean team. Zagunis, Wozniak, Ibtihaj Muhammad, and Sage Palmedo, secured a 3rd-place finish and returned to the podium with a decisive 45-34 victory.
Palmedo, who is still eligible for both Cadet- and Junior-level competition, finished in 28th place in the individual competition – her third consecutive top-32 Senior finish – securing her place on both the Cadet and Junior American women's sabre squads. Recently, her performances at this level, as well as her regular participation in the Senior team events, suggest that we'll be seeing even more from her yet.
Final USA Results are as follows:
1 ZAGUNIS Mariel
7 STONE Anne-Elizabeth
13 MUHAMMAD Ibtihaj
18 WOZNIAK Dagmara
23 AKSAMIT Monica
28 PALMEDO Sage
34 SCHNEIDER Daria
71 KEEHAN Sophie
72 KULMACZ Claudia
102 KEEHAN Emma
108 RUSSO Francesca
Full results and information on the 2013 Challenge Yves Brasseur can be found here.
The next Senior Women's Sabre World Cup will be held in Bologna, Italy, 03/01/13-03/03/13.
About the art: This great piece by artist MichaelO recently surfaced on Facebook, so we tracked down his work on DeviantArt and encourage everyone to go and take a look!