Just in case you are keeping score at home, the US Fencing Association is changing its look to include a new logo.
Instead of the "USFA" the organization has been using the text "USA Fencing" to better highlight the sport vs. the administrative organization.
This logo was found when testing out the new US Fencing membership signup process run by Rail Station (www.railstation.org.)  Rail Station is running the online registration and membership renewal process that, until very recently, was being run by Hang-a-Star.
This looks to be a new logo for US Fencing since Rail Station would have had access to the current US Fencing logo as seen on www.usfencing.org today.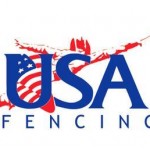 The current logo had come under fire in the past because it featured a sabre fencer executing a fleche attack – an action that has been illegal for several years.
The existing logo is a refresh of the older two toned USFA logo, shown below in the print red/white version as well as the yellow/blue patch used in the 80s.
Update 7/11/10: At the US Fencing board of directors meeting, the logo was introduced as the new logo of USA Fencing.  The process will be to have the style guide for the logo out this month with the branding pushed into American Fencing Magazine in the fall edition and apparel available at the 1st NAC of the season.
The reasons for moving towards a new logo were a need to have a logo that could be customized based on the event (Junior Olympics, Nationals, etc) and team representation.  There was also a desire to move in lockstep with the USOCs new branding efforts.
According to the board presentation, the logo design went through a rigorous review process within the organization.
Cronan, the advertising agency that had been hired (and since fired) to assist in US Fencing's rebranding efforts, did not create the logo design.
Take a look at the logos below and leave a comment to let us know what you think of the new one.