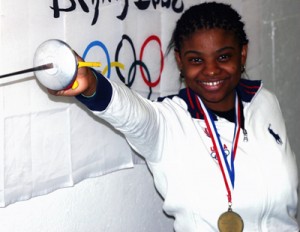 Nzingha Prescod (Brooklyn, N.Y.) didn't need the 2010 U.S. Fencing Summer Nationals to earn her plane ticket to Paris, France for the World Championships. Her spot atop the U.S. women's foil rankings was already set. But that didn't stop her from competing in four events and coming away with two national championships at the Georgia World Congress Center.
"It's been a long week, but it went alright," Prescod said. "It wasn't like a big tournament for me, personally, but it was nice to watch everybody fence."
On Sunday, her club team, the Peter Westbrook Foundation, won the women's senior team foil gold medal against the Texas Fencing Academy, 43-18. Joining Nzingha on top of the podium was teammates Kylei McGill, Epiphany Georges and D'Meca Homer. Texas Fencing Academy featured Melissa Parker, Kaitlin Williamson and Danielle Little. The bout ended with Prescod exploding for 13 touches in the final three minutes, apparently to prove herself to fellow Brooklyn fencer Daryl Homer.
"Daryl Homer challenged me to go to 45, so I was rushing in that last half a minute," Prescod said.
Prescod will be enrolling in Columbia in fall and competing at the World Championships in November. She won national championships in senior team foil and Under 19 foil. She placed third in Division One foil and fourth in Under 19 team foil.
On the other end of the spectrum, Jim Adams (Rockville, Md.) is also on quite a roll. He won Sunday's Men's 70+ Foil national championship, a day after taking the 70+ Epee title. He hopes to complete the sweep with a gold medal in saber on Monday. In the foil final, he defeated Marcel Miernick (Irvington, N.Y.), a 76-year-old representing Fencing Academy of Westchester.
At 70 years old, Adams has been fencing since he was 17. His greatest accomplishment in his 53 years of fencing was a silver medal in the 60+ category at the 2006 World Championships in England. He fences for the D.C. Fencers Club. Fencing is his passion, although he admits it's not for everyone.
"It's an individual sport and if you can find somebody else who can fence with you, well you've got something to do and you've got competition," Adams said. "It's like any other individual sport, tennis or racquetball, but it's a different kind of sport and it appeals to some people, not to others. I've got four kids, none of whom was interested. I've got two grandchildren I tried, they're not interested. I have no brothers and sisters who fence, nobody's interested. I'm very interested, I love it. You take to it or you don't, it's like a lot of things. I don't play golf, I don't play tennis, I fence."