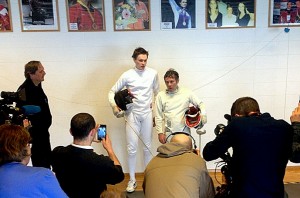 Bruce Dickinson showed up at before Norwegian national fencing championships and set up a fencing session against Olympic silver medalist Bartosz Piasecki. Needless to say, the much shorter and older Dickinson was quickly outclassed by Piasecki, but left a good impression.
Piasecki said of Dickinson, "He's kick-ass. He is short but incredibly fast. That's his weapon. He looked like Rocky when he arrived in a brown robe with the fencing kit in a shoulder bag." After Dickinson's quick start, Piasecki took five points on Dickinson and the vocalist failed to score a point in the final round.
Check the video here:
Talking about the bout afterward, Dickinson said: "I fence because I enjoy it, and the by-product is that I end up getting in reasonably good shape. Actually fencing is very similar to the way I run around on stage. Or maybe I run around on stage like that because I fence. Either way it works for me."
Bruce Dickinson stopped competing when he was 23 and was ranked 7th in Great Britain at that time. He's 54 now and still willing to give it a go against an Olympic medalist.
Awesome!
Read more at: Maiden Revelations – http://maidenrevelations.com/2013/04/26/bruce-dickinson-fences-olympic-silver-medal-winner-in-oslo/

Update
Here's an earlier version of Bruce fencing on MTV in the 90s: