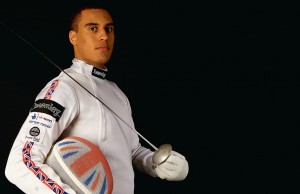 British fencer James Davis (GBR) is coming to the United States to train at the Massialas Foundation. The foilist, at just 22 years old, is ranked 7th in the world and an 18th place finish at the 2013 World Championships.
The Massialas Foundation put out the following press release:
The Massialas Foundation (MTEAM) is pleased to announce that James Davis (GBR), ranked #7 in the World in Men's Foil, will be training in San Francisco to prepare for the start of the 2014 Sr. World Cup circuit.
Davis will be coming to San Francisco in early November, after the World Combat Games, in St. Petersburg, Russia, Oct. 24-26 (fencing dates). The first World Cup of the season is the very important Challenge International de Paris, Jan. 17-19.
MTEAM head coach and USA Men's Foil National Coach, Greg Massialas stated, "we are pleased that James has chosen San Francisco for his 2013-'14 pre-World Cup training. We feel that we have a solid and healthy club environment for James to prepare for a good World Cup season. In the past, we have collaborated with many world class fencers, including Olympic & World Champions, who have trained for one or two weeks in our club in San Francisco. In this case, James will be coming for a solid 2-3 month training period. We look at this a win-win situation for James, British fencing, and fencing in the USA, as a whole".
Related: Recent interview of James Davis on Sport-Magazine.co.uk