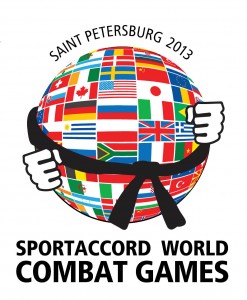 Lausanne, 21 October 2013 – The crème de la crème of fencing will participate in the 2013 World Combat Games in St. Petersburg, Russia.
Five out of the six top ranked fencers in the 2012/2013 season will compete from 24 – 26 October in the St. Petersburg Sports Complex: Arianna Errigo (ITA, women's foil), Andrea Cassara (ITA, men's foil), Ana Maria Branza (ROU, women's epee), Rubén Limardo Gascón (VEN, men's epee) and Veniamin Reshetnikov (RUS, men's sabre).
They will be joined by reigning world champions Miles Chamley-Watson (USA, men's foil), Nikolai Novosjolov (EST, men's epee) and Julia Beljajeva (EST, women's epee).
Errigo and Reshetnikov stick out in particular among these top athletes as they both became double world champions at the 2013 World Championships in Budapest, Hungary. In St. Petersburg, they will compete on October 24th with the gold medal matches starting at 6:00 PM local time. Men's epee and women's sabre is scheduled for October 25th. The fencing competitions close with women's epee and men's foil on October 26th.
The United States enters 4 total athletes in the World Combat Games with 2 time Olympic Gold Medalist Mariel Zagunis and Ibtihaj Muhammad competing in women's sabre, and Race Imboden competing in men's foil along with Chamley-Watson.
Arianna Errigo said about the World Combat Games: "I am going to the World Combat Games with the feeling that it will be a special competition for me. It is the first time that I will go on the piste as a World Champion, but this will undoubtedly give me a lot of strength. Furthermore, this event is taking place in a moment when the new season is beginning. Personally, I don't feel at my best, because I am working to be ready in January. But when I compete I do want to win and in Saint Petersburg I will do anything to reach the best result."
FIE Secretary General Frederic Pietruszka said: "The FIE is satisfied to have an additional competition that provides a high level platform for our stars. We are constantly looking at how we can reach out to new audiences. This is also why we launch a new Grand Prix series in the 2014/2015 season with nine top events in nine iconic places around the world."
Fans and media can watch the World Combat Games live on their live feed and follow the live results at www.worldcombatgames.com.