Olga Kharlan (UKR) continues her dominance in this women's sabre season with her seventh individual gold medal at the 2014 Challenge Yves Brasseur in Ghent, Belgium, keeping her first place world ranking safe and secure from American favorite Mariel Zagunis. Zagunis finished second behind Olga, claiming the silver medal while teammate Dagmara Wozniak and Dina Galiakbarova (RUS) shared bronze.
There were several upsets early in the competition in the Table of 64. Beline Boulay (FRA) seeded 57th out of pools pulled a 15-10 win over 17th seeded Elizaveta Kiryanova (RUS). Sage Palmedo (USA), who was sharing the 57th seed with Boulay, also pulled an upset over 15th seed Jisu Yoon (KOR) with a win 15-12. Palmedo and Boulay met in the Table of 32 where the American bested Boulay 15-9. Unfortunately that win put her against teammate Zagunis in the Table of 16. Zagunis won 15-10 to put herself into the Table of 8. Palmedo would finish 16th overall, her best placing so far this season.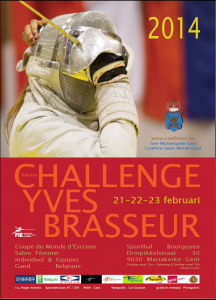 The upsets and bracket troubles did not end there for the Americans, however.
Anne-Elizabeth Stone (USA), seeded 10th in the world, lost to teammate Daria Schneider (seeded 74th after pools) 15-14 in the Table of 64. Monica Aksamit, ranked 44th out of pools, pulled out an easy 15-9 win against 24th seeded Yuliya Zhivitsa (KAZ). This unfortunately meant that Aksamit had to then fence Schneider in the Table of 32. Schneider won 15-5 and then moved on to beat Lucrezia Sinigaglia (ITA) 15-8. Sinigaglia had pulled her own upsets early in the competition as 42nd seed, besting 25th seed Alexandra Bujdoso (GER) 15-12 and squeaking by her bout against 7th seed Rajin Lee (KOR) 15-14.
This was Schneider's second time fencing Zagunis this year and third time fencing an American that day. She kept their quarter-final bout close, but ultimately fell to the two-time Olympic gold medalist, 15-13.
Wozniak, seeded 12th, opened with a 15-5 win over Marion Stoltz (FRA) in the Table of 64. She won her Table of 32 against Olena Voronina (UKR), 15-11, and upset 2013 Senior World medalist Irene Vecchi (ITA), in the Table of 16 15-13. She trekked on, pulling a win 15-11 in the quarter finals against three-time Junior World medalist Saoussen Boudiaf (FRA). Boudiaf had previously upset 4th ranked Ekaterina Dyachenko (RUS) 15-14 in the Table of 32, and then bested Caterina Navarria (ITA) 15-10 in the Table of 16. Wozniak would lose to Kharlan in the semifinals, 15-11, setting up for a final against Zagunis. This was the first individual medal Wozniak had won since 2011, which was silver at this exact tournament.
Zagunis exploded with a 7-4 lead early in the first period, but Kharlan scored four unanswered touches to hold an 8-7 lead at the break. Though Zagunis kept it close, Kharlan would not let go of her undefeated streak and took over in the second half for a 15-11 win.
Other upsets of the day included 45th seeded Francesca Russo (USA) besting 23rd ranked Ilaria Bianco (ITA) 15-9. Even more impressive, the American brought down 9th seeded Azza Besbes (TUN) 15-14 in the Table of 32 before dropping her Table of 16 bout to Aleksandra Socha (POL) 15-7. Jiyeon Kim (KOR), ranked 3rd in the world, fell 15-14 to 29th seeded Tamara Pochekutova (KAZ) in the Table of 32.
 Top 8 Results: 2014 Ghent Women's Sabre World Cup
1. Olga Kharlan (UKR)
2. Mariel Zagunis (USA)
3. Dagmara Wozniak (USA)
4. Dina Galiakbarova (RUS)
5. Aleksandra Socha (POL)
6. Tamara Pochekutova (KAZ)
7. Saoussen Boudiaf (FRA)
8. Daria Schneider (USA)
Final Results: 2014 Ghent Team Women's Sabre World Cup
Team USA started the team event off with a 45-30 win over Kazakhstan before falling to France 45-41 in the top-8. In the placement rounds the US team defeated Hungary (45-41) and then Poland (45-38) to place 5th.
Russia claimed the team gold with wins against Belgium (45-23), Hungary (45-39) and France (45-38) before reaching the finals.
Top seed Ukraine started off with wins against Canada (45-12) and Poland (45-38) before losing a 45-44 match against Italy. Italy went on to face the Russian team, which won the gold 45-39.  [bracket]
1. Russia
2. Italy
3. Ukraine
4. France
5. USA
6. Poland
7. Korea
8. Hungary