Check out Tim Morehouse on Fox and Friends this morning where he talks about NDSU's ban on fencing due to the campus weapons policy (something we've been actively discussing in the forums):
What is really good about this appearance is Morehouse using this news story as a way to publicize fencing and teach more about the sport. Taking the news story of "fencing banned due to weapons policy" and turning the objection on its head by talking about safety in fencing is something that every fencing club in the United States could be doing right now. Fencing is one of the safest sports as evidenced by a study of injuries during the 2008 Summer Olympic Games.
The ban on fencing is an overly heavy interpretation of the weapons policy. More assaults and injuries are committed using baseball bats and golf clubs than have been committed using a piece of fencing equipment. There are a large number of collegiate fencing clubs as well as NCAA competition in fencing.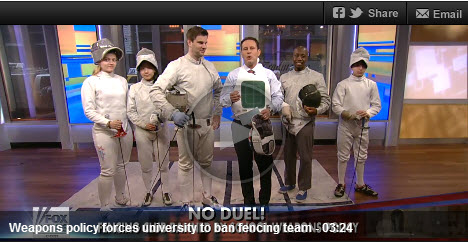 Related Links:
Forums: North Dakota State University bans Fencing On-Campus
News: Campus Weapons Policy Foils Fencing Club
Reference: Fencing in College – How to get on a fencing team and listings of NCAA Teams and Club fencing programs