Zagunis takes 2nd at Tunis Grand Prix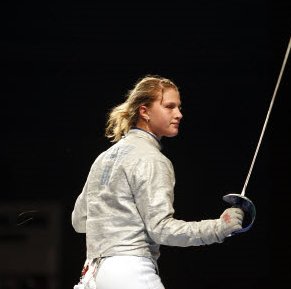 Olga Kharlan – Photo FencingPhotos.com
Ukrainian sabrist Olga Kharlan won her 3rd individual event of the season, best the Mariel Zagunis (USA) 15-6 in the final of the Tunis Grand Prix event. Zagunis still holds the top ranking on the FIE points list, but is still searching for a world cup win – here last 1st place finish was the London world cup in January.

Kharlan, who was beaten by Zagunis for the 2009 World Championship title, has won 3 events this season and remains firmly in the #2 spot in the world rankings.
The rivals had different paths to the final match – Kharlan fought through several close matches, beating Solenne Mary (FRA) 15-12 in the 16 and Sophia Velikaia (RUS) 15-13 in the semi-finals. In all, Kharlan's average margin of victory was 4 points.
Zagunis, on the other hand, crushed most of her rivals. Her closest match before the finals was a 15-10 victory over Bogna Jozwiak (POL) in the round of 32. In the semi-finals she decimated Irene Vecchi (ITA) 15-3. The average margin of victory for Zagunis bouts was 8.6.
Dagmara Wozniak, who had piled up two top-8 finishes, hit the wall with a 15-13 loss in the 64 to Li Fei (CHN). Emily Jacobson pulled the upset of #6 seed Yingying Bao (CHN), winning 15-10 before falling in the 32 to Rosella Gregorio (ITA). Jacobson finished in 32nd place.
The top US finishes besides Zagunis were Ibtihaj Muhammad, who took 12th off of victories over Berder (FRA) and Kim (KOR) before falling to Velikaia (RUS). Daria Schneider placed 23rd with a victory over Stagni (ITA) before falling 15-10 to Poland's Aleksandra Socha.
Next the women's teams will compete in Tunis as the men gear up for their individual event.
Links: