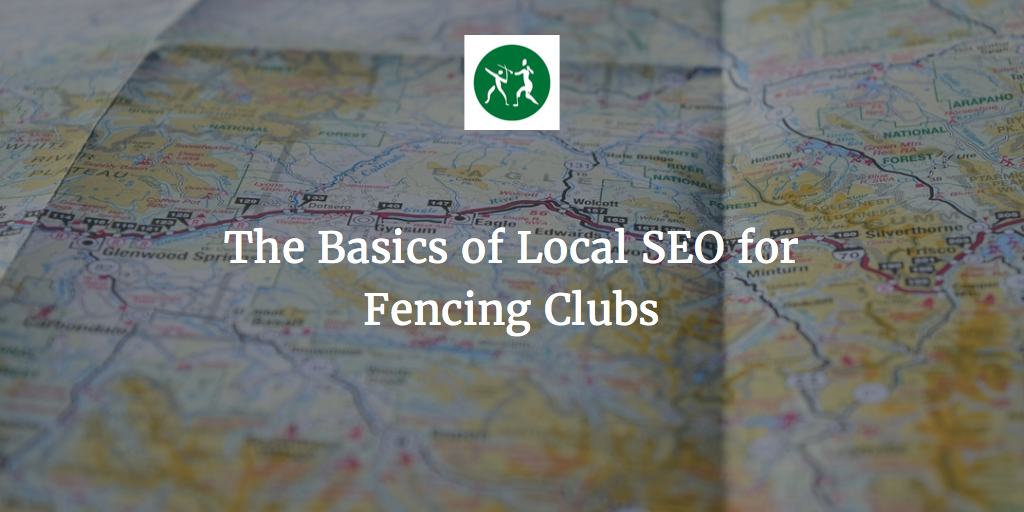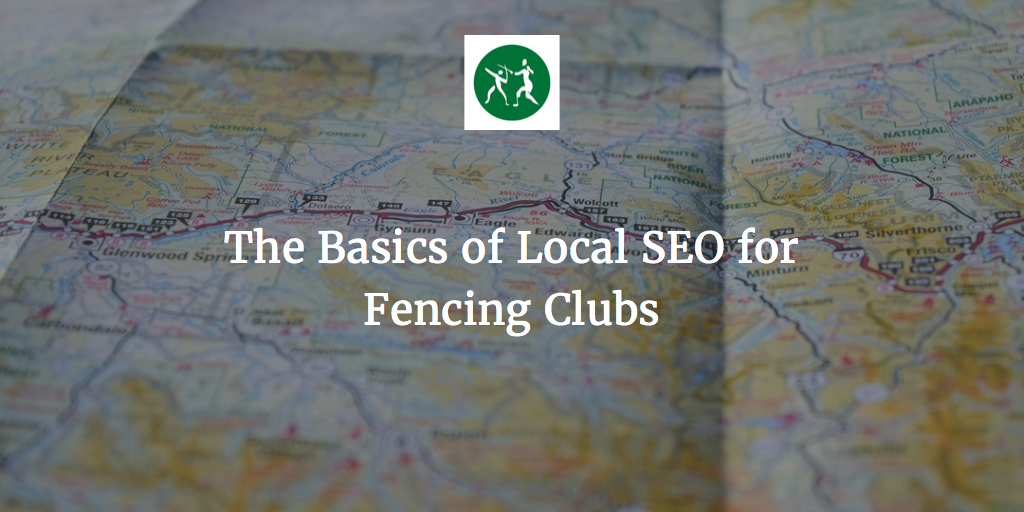 At the core of every small business is the local community they serve. Fencing clubs are highly local, and depend on ties with the community. Having a good local search strategy is crucial to the foundation of online marketing for fencing clubs. I'll go over some of the basics here.
Since closing the retail store for Fencing.Net, I've been working full time as a SEO (Search Engine Optimization) manager for a company with a large number of locations around the world.
Over the past few years the search engines (Google in particular) are getting more refined on local search. People are turning to Google and voice search on their phones to find places near them.
What is Local Search?
Local SEO refers to optimizing businesses for local instead of broad based general search terms. Local SEO focuses on providing the best results based on the location of the business and the searcher. So when I type "fencing clubs" into a search engine, my location is taken into account to populate the maps listing (if there are clubs nearby or in my city.)
What does that mean for fencing clubs?
Fencing clubs need a great local SEO strategy that starts with making sure the fencing club is visible in Google Maps searches as well as those pages that show up when future fencers are searching for fencing clubs.
What does a Local Listing for a fencing club look like?
Here's what a search for "Fencing Clubs in NYC" looks like. In your city, you want to make sure you're visible in the top-3 maps results for maximum visibility.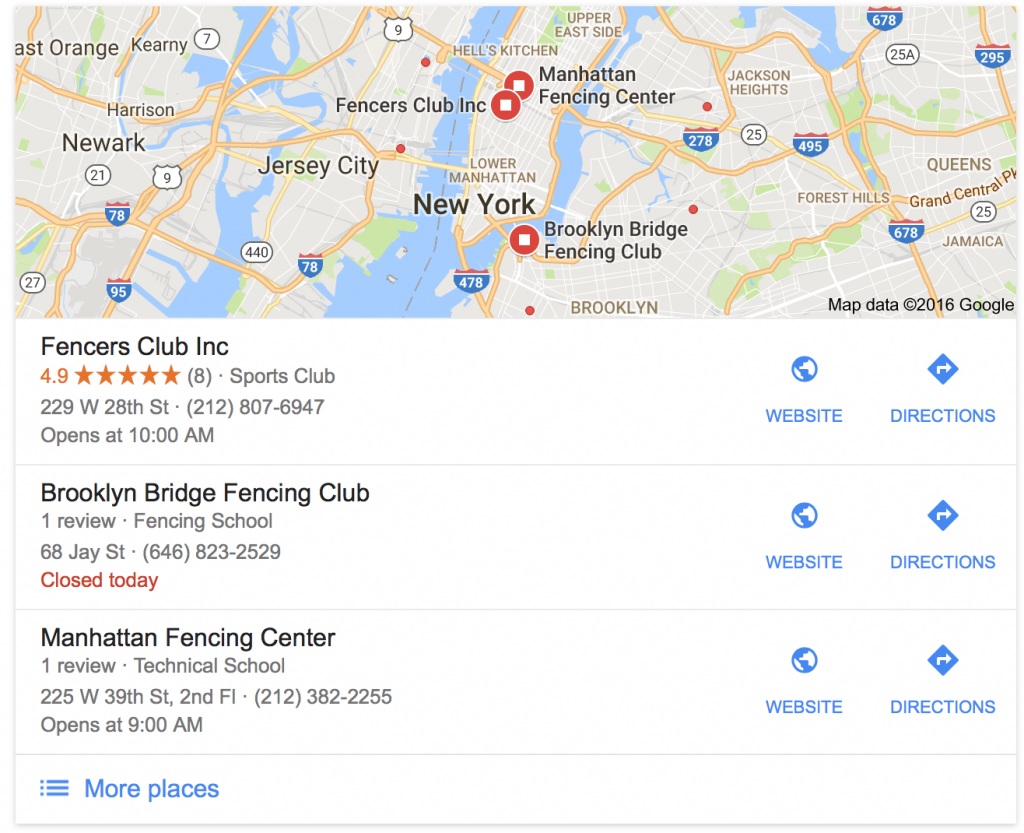 You can see from those listings that there are some obvious optimization opportunities. Manhattan Fencing Center is not a "Technical School" and would be better served to get listed as a "Sports Club" or "Fencing School". (Google has been adding categories as the Google Business program has expanded, so this is most likely a case of creating a listing and not optimizing as Google makes updates.)
In future posts I'll go into the aspects of the maps listing to dissect it more so you know what to look for in managing listings for your fencing club.
The rise of "near me" searches
Having your fencing club visible on web sites that rank for any of the "near me" terms both helps searchers to find you and adds relevance to the search in Google Maps.
Here are a few of the keywords that drive fencing club related searches to Fencing.Net and our club locator (the columns are the search term, click through rate from Google, and average ranking):

According to Google, "near me" searches have increased 34x since 2011 and doubled in 2015. More searches are on mobile devices as people look for local information. Your potential fencing parents are using more conversational search so instead of "fencing clubs in atlanta" they're searching "local fencing lessons" or "fencing clubs near me".
How fencing clubs need to approach Local SEO – Focus on NAP
The basics of local SEO apply to all businesses and they focus in on having correct and consistent NAP (Name, Address, Phone). This means that in every place where your fencing club is listed, the Name, Address, and Phone number should be consistent.
The first place you need this is on your own fencing club web site! If your club has moved, make sure to update your address on every page. (Ideally you have your address in the footer of your fencing club web site so a change to your footer will update your entire site.)
This is a challenge for fencing clubs that have a history of moving every few years as they grow or the demands of leasing space change.
Any time a fencing club moves or changes names, all of those local listing sources need to be updated.
When you don't update that information, you're making it harder to find the right location. At worst you'll have a potential customer drive to a closed location and have a horrible start to your relationship with them. (This happened to us when we moved the Fencing.Net store to a new location.)
Where to to get your fencing club listed?
In order to get consistent listings for your fencing club, make sure to visit all of the places where fencing clubs are listed online. These include:
The USA Fencing Web Site (requires active club membership)
Fencing.Net
Your local fencing division site
Local chamber of commerce
Local Better Business Bureau (may require a fee)
In addition, you'll want to search out any opportunities for getting your fencing club listed in other local business directories, beginning with the ones that have an opportunity to drive real traffic to you. (For instance, I've not seen a positive return on investment paying Yelp for their premium listings.)
In order to decide if you want to pay for listings, you really need to know what your current cost to acquire a new customer and your customer lifetime value is. (I've discussed this with several fencing clubs and it's a topic for a future post.)
How to clean up old club listings?
After looking at all of these sites, and anywhere else you can find your fencing club, you'll probably find a few that are incorrect. For each of these, you'll need to contact the web site where you're listed and request those corrections.
Once you've received word that your listing has been corrected, go look and verify it.
In my next post on Local SEO for Fencing Clubs, I'll go over the Google My Business program for how to set up the GMB listing for your fencing club.
Have any other questions about Local SEO for your fencing club? Send me your questions to [email protected]. I'll use those for future blog posts. Need help in doing all of this? Contact me about local search consulting.