A former international fencer has reported on the physiological and biomechanical demands of the sport with the aim of exploring new ways to improve individual performance.
Despite fencing's long history as an Olympic event (it debuted at the first games in Athens, 1896) it has only been recently that scientific studies have been conducted as a means of improving performance.
As lead researcher for the University of Hertfordshire's sport, health and exercise department, Dr. Lindsay Bottoms, who won bronze for England as a member of the women's epee team at the 2014 Commonwealth Fencing Championships, has been trying to answer the question of whether adjusting specific biomechanics and nutritional intake could improve performance.
Lab-based protocol
Simulating the same level of physical exertion that fencers experience during international competition, (whereby athletes would perform high-intensity footwork for eight seconds, rest for nine and then repeat for three minutes eight times) a particularly heavy load was found to be placed on the phosphocreatine system, which produces the energy required for the explosive 'lunge' movement that fencers use to score.
"Fatigue is quite a complex concept and can be both physical and mental," Dr. Bottoms told Fencing.net.
"The interesting thing about fencing is that the sport is very tactical and there is a lot of decision making whilst exerting energy. It's known that as we become fatigued our ability to maintain our reaction times and decision-making deteriorates. Therefore, anything we can do to prevent this fatigue will have a positive impact on performance."
Carrying this philosophy through to the physical movements of fencing, Dr. Bottoms used 3D and thermal-imaging cameras to quantify the essential components of the lunge specifically, conducting a series of studies examining the way a fencer's lunging technique could also be improved.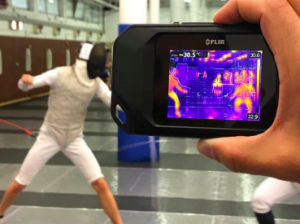 Asked about a fencing body type, Dr. Bottoms said she didn't think there was one.
"In fencing, we get such different athletes competing that I don't think there is a type. That said, in epee there is no doubt that having a long arm span is beneficial. My favourite published journal article on fencing is the Science of Fencing by Roi and Bianchedi from 2008 where they discuss anthropometrics in their paper."
Marginal gains
Nutrition-wise, her report doesn't shy away from recommending carbohydrate drinks or caffeine as a way of improving performance. Aiming to confirm the results of a study conducted by the University of Birmingham in 2004, Dr. Bottoms conducted her own whereby the action of 'swilling' or 'rinsing' the mouth with a 'sports drink' was shown to improve the lunge accuracy of 12 club fencers during competition.
"At elite level, having marginal gains to improve performance is extremely important," she said, "and getting them can be achieved through a nutritional supplement."
Similarly, the same types of drinks containing caffeine were shown to have the same effect; improving the body's perception of fatigue whenever sugars are detected by receptors in the mouth, stimulating the region of the brain concerned with motivation.
"In our latest study which has yet to be published, we found energy expenditure of an epee fencing competition day to be about 3500 Kcals," explained Dr. Bottoms.
"Therefore, if these calories are not replaced, the fencer will tire more quickly and performance will deteriorate. However, to replace the calories purely by food consumption will be difficult on a competition day as having so much food in the stomach can make you feel uncomfortable. Therefore, replacing some with a caffeinated sports drink will help replace calories, maintain muscle glycogen and improve cognitive function."
For more information, check out Dr. Bottom's Fencing Training and Performance Tips below, and to read the full article, click here.