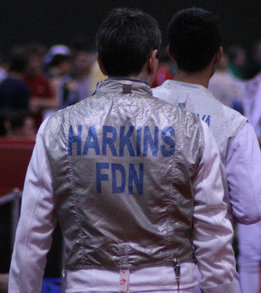 The requirements for having your name on the back of your fencing jacket or lame (or on the rear leg of your fencing pants) have been updated as of the September 2010 USA Fencing Board of Director's meeting.
As of now, the following tournaments require you to have your name on your fencing uniform:
USA Fencing National Tournaments:
Names on the fencing uniform ARE required at:

NAC (all types)
Junior Olympics
Div I National Championships
Summer Nationals
Wheelchair National Championships
Nationally-Sponsored Regional Tournaments
Names on the fencing uniform are NOT required at:
Sectional Championships
Division Qualifiers to National Tournaments
Any non-National Tournament not listed under above classifications
Non-Qualifier Division Level Tournaments (all types)
Sectional Circuit Tournaments
Regional Circuit Tournaments (ROC, RYC)
Super Youth Circuit (SYC)
Local events
What are the requirements for having your name on the uniform?
For tournaments where the fencer is required to have their name on the fencing uniform, the following are the specifications for the name:
In all three weapons, each fencer's last name must be printed legibly from a distance of 15 feet, by hand or
machine, in capital letters between 8 and 10 cm high.  (The actual specifications in rule m.25 are that the name be in capital letters, dark blue, 8-10cm high and the strokes be 1 to 1.5cm wide.)
The placement of the name can be:
on the back of the uniform jacket or lamé between the shoulders
on the front or side of the thigh of the "rear" leg; or
on a piece of fabric or lamé material that is firmly sewn to the uniform in such a way that it will not detach during fencing or catch the opponent's point.
Additionally: Fabric attached to the uniform must be the same color as the part of the uniform to which it is attached. Conductive materials must be attached in such a way as to not alter the conductivity of the metallic vest or jacket. NAMES PRINTED ON TAPE ARE NOT ACCEPTABLE.
For International (FIE) events, the name is required on the back of the jacket or lame and a country-code must be placed below the name.  (For the United States, the code is "USA")
References: Draft BoD Meeting Minutes; Discussion on Fencing.Net including confirmation from a board member.