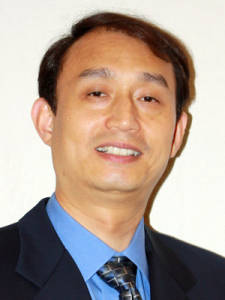 Andy Ma has been named the new head coach for the University of Pennsylvania's fencing teams, replacing the retired David Micahnik. Ma comes to UPenn from the Fencing Academy of South Jersey in Cherry Hill where he has been President and head coach for the last 15 years.

The University of Pennsylvania's director of athletics, Steve Bilsky, has announced the hiring of Andy Ma as head coach of the Penn men's and women's fencing programs. Ma replaces David Micahnik, who retired following the 2008-09 season after 35 years at the Quaker helm.
"We welcome Andy back to Penn, and we are thrilled that he will now lead our fencing programs," said Bilsky. "His record of achievement is outstanding, especially the physical and emotional development of the young men and women whom he has taught. We expect Andy to continue the long and proud tradition of Penn Fencing."
"I am greatly honored and excited to be the new Penn fencing coach," said Ma. "I am eager to start working with the team and the athletic department. I will use all of my training and energy to continue the excellence of the Penn fencing tradition, and hopefully reach even higher levels of success."
Ma comes to Penn after spending the last 15 years as President and Head Fencing Coach at the Fencing Academy of South Jersey in Cherry Hill. The Fencing Academy has three facilities, and during Ma's tenure the program has trained eight US National Fencing Team members — five in saber, three in foil — six national champions and one world champion. Seven of his South Jersey fencers have competed at the University of Pennsylvania, and overall 20 have gone on to Ivy League fencing programs.
Since 1997, Ma has produced more than 200 medalists in United States Fencing Association (USFA) national and NAC competitions, World Cup competitions, and World Championships.
Internationally, Ma coached the United States Cadet Saber team from 2003 to 2008, and in both 2005 and 2008 he was selected Coach of the Year by the U.S. Olympic Committee. President of the USFA's South Jersey Division, he is a certified USFA fencing director and earned the highest competitive rating of "A" by the USFA in Saber in 1992.
In addition to his work at the Fencing Academy, Ma served two stints as Micahnik's assistant coach at Penn — the first from 1994-96, and the second from 2005-06. During his first stint, Penn won the Ivy League Women's Team Championship twice, in 1994 and 1995, and he trained a first-team men's saber All-America and a second-team men's foil All-America.
Ma was also an assistant coach at Ohio State University from 1989-91, helping the Buckeyes win the Men's and Women's Big Ten titles in 1990-91, and from 1985-88 he was fencing coach at the Beijing (China) Sports University where he helped develop China's junior national saber champion who later competed at the 1992 Olympic Games in Barcelona, Spain.
As a competitor, Ma was a two-time National Saber champion of the Chinese Fencing Association (1985, 1988) and a two-time Chinese Intercollegiate Saber champion (1983, 1985). He also won Ohio's saber title during his stint at OSU.
Ma holds B.A. degrees in Fencing and Physical Education as well as Educational Psychology from the Beijing (China) Teachers University. He also has a master's in Sport Psychology from Ohio State.
Press release provided by UPenn: Source
Photo: Courtesy UPenn