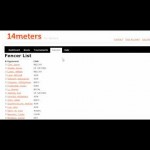 Over at the forums, user noodle released the Fencing Journal application that he's been working on.  This is a cool app that pulls in all of the bouts from your AskFRED account and provides you with a display of your tournaments and bouts, plus gives you the ability to tag bouts and add notes so that you can use your past results to give your some learnings for fencing in future tournaments.
There is a discussion on the online journal app over in the forums here.  Try it out and see what you think.
I wish that it had the ability for you to add bouts from the NACs and other tournaments not on FRED.  Having a way to add and classify practice bouts would be a nice addition as well.  Overall, this is a very good start for an online fencing journal.