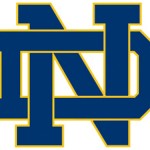 The Notre Dame men's and women's fencing teams completed a 2 day sweep of the Notre Dame Duals at the Joyce Center Fieldhouse, with the women's team posting an 8-0 record on Saturday and the men following suit with their own Sunday sweep.
With the eight wins, the Irish women improve to 19-0 on the season and now have the longest winning streak in women's fencing program history.  The eight victories moved the winning streak to 78 consecutive regular season decisions, besting the previous streak registered from 1993-96 (75 wins). On Saturday, the Irish women claimed wins over Lawrence (25-2), Detroit (27-0), Cleveland State (24-3), Florida (26-1), Air Force (21-6), Swarthmore (22-5), Wayne State (21-6) and seventh-ranked Northwestern (18-9).
The men's squad moves to 18-1 overall, but the highlight of the weekend was the return of Ted Hodges to competition after undergoing a successful heart transplant over one year ago. The Irish senior competed in a full slate of matches throughout the day, finishing with a 15-4 record and posting 3-0 marks against both Lawrence and Cleveland State.
Video Highlight: Hodges fencing against UF:
Weapon Squad Recaps:
Women's Epee:
While Courtney Hurley (8-0) and Ewa Nelip (8-0) were used sparingly during competition on Saturday, three other women's epeeists got a chance to get in several bouts. Phenix Messersmith took to the strip 22 times, posting a 16-6 record on the day.
Stephanie Myers ended the day with a 9-5 record, including clean sheets against Lawrence, Detroit and Florida. Caroline Dikibo rounded out the epee rotation, finishing the day with a 7-3 record, helped by a perfect 2-0 ledger against Cleveland State.
Women's Foil:
Seven foilists took to the strip for the Irish during the day, led by Katie Heinzen and Adriana Camacho who finished the day with records of 13-1 and 11-0, respectively. Three other Irish foilists reached the nine-win mark, as Radmila Sarkisova ended 9-1, Grace Hartman finished 9-2 and Darsie Malynn ended 9-3.
The squad also saw Rachel Beck (6-2) and Hayley Reese (6-0) post winning records in a limited role on the day.
Women's Sabre:
Irish regulars Sarah Borrmann (3-0) and Eileen Hassett (3-0) took on a secondary role at the Duals, as the team used seven other sabreists for a majority of the day's bouts. Lian Osier also saw her bouts reduced, concluding with a 2-1 record in the match against Northwestern.
Beatriz Almeida (15-2) and Abigail Nichols (15-1) each reached the 15-win plateau, while Marta Stepien pieced together a perfect day, finishing with a record of 12-0. She posted at least two wins in matches against Lawrence, Florida and Swarthmore.
Kathryn Palazzoto ended the day with a record of 8-2, including clean sheets against Detroit, Cleveland State, Florida and Wayne State. Danielle Guilfoyle and Julia Kohn, who finished 6-0 and 2-0, respectively, rounded out the sabreists.
Men's Foil:
Along with Hodges, the Irish also sent eight other fencers to the strip in foil, including Ted's brother Grant Hodges, who finished the day with a 19-1 mark. The two fenced together in a collegiate event for the first time since being at Notre Dame.
Nicholas Crebs posted the most wins in the weapon, finishing with a record of 20-1. The Irish foilists rounded out the rotation with Reggie Bentley (1-1), Enzo Castellani (2-0), Ariel DeSmet (2-0), Nicholas Kubik (2-2), Steve Kubik (1-0) and Zach Schirtz (1-0).
Men's Epee:
A full cast of eight fencers also competed for the Irish in epee with each recording a minimum of five wins on the day. Both Brent Kelly and Greg Schoolcraft led the epeeists, earning nine wins apiece. Andrew Seroff finished just behind them with eight wins.
James Kaull (7-2), Jack Piasio (7-3), Christopher Pinkowski (7-1) and Michael Rossi (7-1) shared the honors of third-highest win total amongst Irish epeeists, with Jacob Osborne (5-4) rounding out the rotation.
Men's Sabre:
The Irish rested their regular starters at sabre, with Jason Choy, Barron Nydam and Avery Zuck not taking to the strip on Sunday. In their absence, nine other sabreists got the chance to earn competition time.
Carl Ianiro paced the team with a final mark of 9-1, and was followed closely by Keith Feldman and John Plunkett, who each finished with eight wins. Alex Buell (5-3), Alexander Coccia (7-0), Kevin Hassett (7-1), William McGough (6-1) and Anthony Schlehuber (6-0) all reached the five-win mark with Marcel Frenkel rounding out the unit with a record of 4-2.
The Irish next return to action Saturday and Sunday (Feb. 5-6) at the Northwestern Duals in Evanston, Ill.