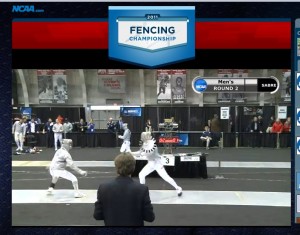 Notre Dame amassed 61 points to lead Penn State and St. John's after the first day of competition.
COLUMBUS, Ohio — The Notre Dame fencing team certainly lived up to its top-billing on the first day of the 2011 NCAA Championships on Thursday at the French Field House on the campus of Ohio State. The team ended the day atop the leaderboard after securing 61 points. Individually, four of the Irish athletes in competition reached the 10-win plateau, led by Ariel DeSmet going 12-2 in men's foil.
The Irish as a team amassed 61 total points and hold an eight-point lead over Penn State (53) after the first day. St. John's rounds out the top three after securing 40 points. Men's foil combined for 23 points on the day for the Irish, while sabre secured 21 points and epee claimed 17.
DeSmet concluded his day on a hot streak, claiming his last seven bouts that he competed in. After his first 14 bouts, he sits in third place, just behind David Willette of Penn State. DeSmet finished with an identical record but his +34 indicator falls just behind that of Willette, who finished at +35.
Junior Reggie Bentley did more than hold his weight in his first appearance at the NCAAs, posting an 11-3 record with a +26 indicator. He sits alone in fourth place. After going 3-2 in his first round of bouts, Bentley proceeded to go 8-1 in his final three rounds.
Miles Chamley-Watson of Penn State is the leader of foil after day one, recording a 13-1 record with a +32 indicator.
Both Irish men's sabreists, much like the foilists, reached the 10-win mark after the first day. Avery Zuck sits in third place after finishing his first four rounds with an overall record of 11-3 with a +31 indicator. Senior Barron Nydam is in sixth place after finishing at 10-4 with a +10 indicator.
Alexander Ochocki of Penn State leads the sabre after the first day with a record of 13-1, with Daryl Homer of St. John's in second with a 12-2 record.
James Kaull and Brent Kelly took to the strip for the Irish in epee. Kaull, a sophomore, ended the day in fifth place after finishing with a record of 9-5 and a +6 indicator. He earned two big wins on the day by securing a pair of overtime wins against Jacob Wischnia of Penn (2-1) and Nicholas Vomero of St. John's (4-3) to conclude his day.
Kelly, making his first career appearance at the NCAA Championships, ended his day 8-6 with a zero indicator. He also defeated Vomero in an overtime bout to begin his fourth and final round (4-3) to mark his biggest win of the day.
Marat Israelian of St. John's leads overall after going 11-3 with a +24 indicator in his first 14 bouts.
Men's fencing action concludes Friday with rounds five through seven of round robin play. Following the completion of those rounds, the top-four finishers in each weapon will fence simultaneous semifinal 15-touch bouts, with the winners fencing to determine the individual champion, and the losers being awarded a tie for third place. An institution's place in the championship will be based on points earned by each individual win in pool play only.
http://www.ncaa.com/news/fencing/2011-03-24/notre-dame-leads-after-day-one