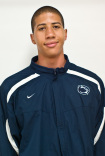 After the preliminary round in the Men's Foil NCAA Championships, Miles Chamley-Watson (Penn State) leads the field as the top seed heading into the semi-finals.
Chamley-Watson will be joined by teammate David Willette (Penn State), Ariel DeSmet (Notre Dame), and Daniel Cohen (Air Force) in the semi-finals.
The Penn State fencer led the field with 21 victories in his 23 bouts and a 0.913 win percentage.  David Willette followed with 19 wins.  DeSmet and Cohen each netted 18 wins, but DeSmet led in indicators (+/-) with a +41 to Cohen's +38.
When fencers are tied for number of wins/win percentage, the next indicator is the +/-, or touches scored minus touches received.
The four fencers will next fence 15 touch direct elimination bouts to determine the 2011 NCAA Individual Champion in Men's Foil.  Miles Chamley-Watson will face Daniel Cohen and David Willette will fence against Ariel DeSmet.  The elimination bouts are 15 touches and these bouts to not count for the overall team score.
In the preliminary round, Chamley-Watson lost to Cohen 3-5 and DeSmet defeated Willette 5-4.