Lee Kiefer. Photo (c) FencingPhotos.com
Lee Kiefer (left) stood atop the winner's podium in the Women's Foil event at the Coupe Heracles Junior World Cup but was not alone. She was joined by her teammates Nzingha Prescod and Margaret Lu.
Kiefer started out slow, entering the direct elimination portion of the event seeded 25th and had to start the DE table with a bout against her sister, Alexandra. Lee won that bout 15-7 and moved on to cruise through her next bouts up to the top 4, where she faced #4 seed Margaret Lu. Kiefer won 14-9 then dispatched Russia's Deriglazova 15-10 for the victory.
Lu entered the day as the #4 seed and had a scare in the round of 16, winning 14-13 against Italy's Violetta PIERGIACOMI. During Margaret's bout in the quarter finals, she was matched up against Italy's top Junior Women's Foilist (and 2nd world ranked) Alice Volpi. Margaret was down 8-12 and had to take a 10 minute injury time-out with the trainer due to a very bad cramp in her weapon hand. Afterwards, she managed to tie it to 14-14, then did a one light touch to win 15-14. Lu then lost to Lee in the next bout and finished 3rd.
On the other side of the DE table, Prescod entered as the 11th seed and was immediately challenged in a 15-13 bout against Hayley Reese (USA). Prescod fell in the round of 4 14-4 to #26 seed Inna Deriglazova (RUS).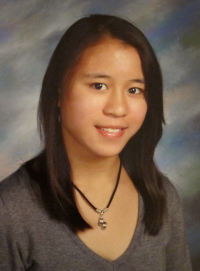 Margaret Lu
Entereing the Budapest tournament, Lee Kiefer was ranked 31st in the FIE points standings for junior women's foil. Prescod was 3rd and Lu 39th. The FIE has not yet updated the rankings based on this event.
The full DE table is available here:
{sidebar id=1}