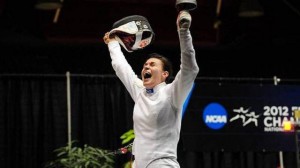 Ohio State won its 4th NCAA Fencing Championship title over the weekend.  The championship is the third combined (men's and women's) for the program, with all three coming under the direction of head coach Vladimir Nazlymov, who spent little time celebrating and remained focus on motivating his team for strong individual finishes. Ohio State won its first title in 1942 when the NCAA supported only men's fencing. Nazlymov also led the squad to titles in 2004 and '08.
Their Videos from the 2012 NCAA Fencing Championships are now up on both YouTube and on ESPN.  User CyrusofChaos has uploaded his videos of the Championships to YouTube and we've created a playlist of the final bouts.

You can also watch the ESPN production of the NCAA Fencing Championships at ESPNU.com.