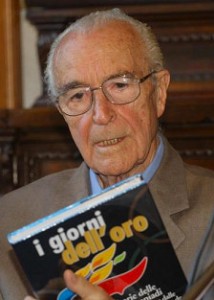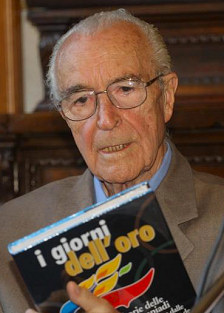 Edoardo Mangiarotti (ITA), Member of Honour of the FIE, passed away during the night of May 24, 2012.  Mangiarotti won more Olympic medals and world championships than any fencer, beginning with the 1936 Berlin Games.  The NY Times reported that he died at age 93 in his home in Milan.
The FIE published letter acknowledges Edoardo Mangiarotti as a top athlete as well as a very talented leader.
At the 1959 Congress, he was awarded the Challenge Chevalier Feyerick with the following special mention:
"Exceptional fencer, who, during an already very long career adorned with the most prestigious awards, has never ceased to show examples of amazing moral and physical qualities, having always managed to combine the efficiency of pure classical fencing and the elegance characteristic of perfect sportsmanship."
At the 1980 Congress, Mr. Gian Carlo Brusati (ITA, MH), President of the FIE, named him Secretary-General of the FIE.
He was awarded the title of Member of Honour of the FIE by the 1984 Congress.
Edoardo Mangiarotti was President of the Scale of Votes Commission and then, from 2000 to 2008, President of the Disciplinary Commission.
He invented the "Mangiarotti" point.
In 2002, he was awarded the Olympic Order by the IOC.
Born on April 7th, 1919, Edoardo Mangiarotti was an amazing foil and epee fencer. Junior Italian champion from the age of 11, he started fencing at an international level at the age of 16 and participated in his first World Championships in 1935.
He holds an impressive track record:
Olympic Games: 6 gold, 5 silver and 2 bronze medals: Berlin 1936 (gold), London 1948 (2 silver, 1 bronze), 1952 Helsinki (2 gold, 1 silver), Melbourne 1956 (2 gold, 1 bronze), Rome 1960 (1 gold, 1 silver).
World Championships: 15 gold, 7 silver and 5 bronze medals.