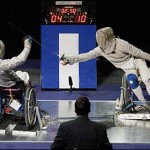 Wheelchair Fencing:
Wheelchair fencing leads off the news roundup with a piece on Penn freshman David Xu who had a podium finish at the last wheelchair national event. He's considering training towards the 2016 Rio Games:
Penn fencing freshman Xu reaching for Paralympics
The Daily Pennsylvanian
Freshman David Xu had his left foot amputated shortly after birth but has excelled in wheelchair fencing under the coaching of Mickey Zeljkovic. Xu is considering training for the 2016 Paralympics in Rio de Janeiro.
High School:
High school fencing news is an all-NJ affair. The stories cover the end of the HS season with district championships and some individual profile pieces. The NJ Star-Ledger makes high school fencing a regular part of it's coverage during the season.
Ramapo Fencing Wins District Title for 10th Straight Year
Patch.com
Once again Ramapo's journey to the District crown was a nip and tuck battle with archrival Don Bosco. But unlike last year, when at the end of the tournament they were tied for total victories and the winner had to be decided by counting touches, this …
H.S. boys fencing: Teaneck fencer makes his point
NorthJersey.com
Teaneck's Thompson came away with the gold medal at the District 4 fencing championships, beating out a strong saber field as he qualified for the state individual tournament for the second year in a row.
Montgomery High girls' fencing takes title
The Times of Trenton – NJ.com
CLINTON TOWNSHIP — The NJSIAA District II fencing championships came loaded with promise for Times-area teams, and they certainly did not miss their chance to deliver. From Montgomery High School taking top honors in the girls' division to Princeton …
NJ High School Fencing – First Round Playoff Matchups
The Star-Ledger – NJ.com (blog)
The most anticipated part of the High School fencing season has finally arrived – the state team tournament aka "The Sweet 16". This annual match up of the best teams in the state (and the country) begins tomorrow with eight pairings that will give …
Boys fencing: Around the state for the week of Feb. 4
The Star-Ledger – NJ.com (blog)
… Won that finished third at the Cetrulo tournament earlier this year. Montgomery will look to deliver the knockout punch in foil and Bernards will likely need Au to fence to the very best of his abilities and go undefeated if they want to advance in …
Girls fencing: Around the state for the week of Feb. 4
The Star-Ledger – NJ.com (blog)
FENCER TO WATCH. Watchung Hills will need big things out of Natali Moszcynski in the team's match-up with West Windsor-Plainsboro North tomorrow in the first-round of the NJSIAA team tournament. Moszcynski finished third in District 2 last Saturday …

NCAA:
NCAA fencing last weekend saw events at Vassar, MIT and Northwestern. The various student news and sports sites issued releases as to how the different schools fared. Here are just a few of the stories that we picked up:
Yale – Elis post five wins at Vassar
Yale Daily News (blog)
The Yale fencing teams suited up at the Vassar Invitational in Poughkeepsie, N.Y., on Saturday for their last series of bouts before the Ivy League Championship. The women rebounded from a losing record at the NYU Invitational last week with a strong 3 …
Irish Fencing Shines At Northwestern Duals
Notre Dame Official Athletic Site
EVANSTON, Ill. – The University of Notre Dame fencing team completed another successful competition Saturday at the Northwestern Duals inside the Crown Sports Pavilion. The second-ranked Irish women's team went a perfect 8-0 on the day, upping
Northwestern a 'whisker' away from toppling No. 1 Princeton
Daily Northwestern
"We fenced really well against them last weekend and beating them probably gave them that revenge motivation" senior foilist Dayana Sarkisova said. "You learn from losses so much in fencing and they clearly evaluated that loss well and came back with a …
Penn fencing undefeated at Eric Sollee Invitational
The Daily Pennsylvanian
The men's and women's fencing teams headed to Cambridge, Mass., this weekend for the Eric Sollee Invitational. Both squads swept the competition of Stevens Tech, MIT, Boston College and Brandeis. On the men's side, an opening 19-8 victory over …
Duke Fencing Near Perfect at Sollee Invitational
SportsPageMagazine.com
CAMBRIDGE, Mass. – The Duke women's fencing team went a perfect 6-0, and the Duke men 5-1 on Sunday at the Eric Sollee Invitational hosted by MIT. The meet marked the best performance of the season for both squads as the women took down Boston …
New Fencing Club:
Olympia Fencing Club opens in Cambridge
Cambridge Chronicle
Olympia Fencing Club, a state-of-the-art competitive fencing club catering to children and adults who want to learn the sport of fencing, has opened at 127 Smith Place in the Alewife section of Cambridge. Competitive fencing is one of the fastest …[read more]