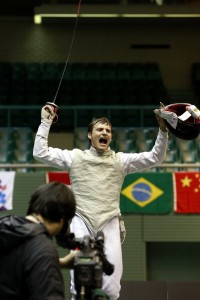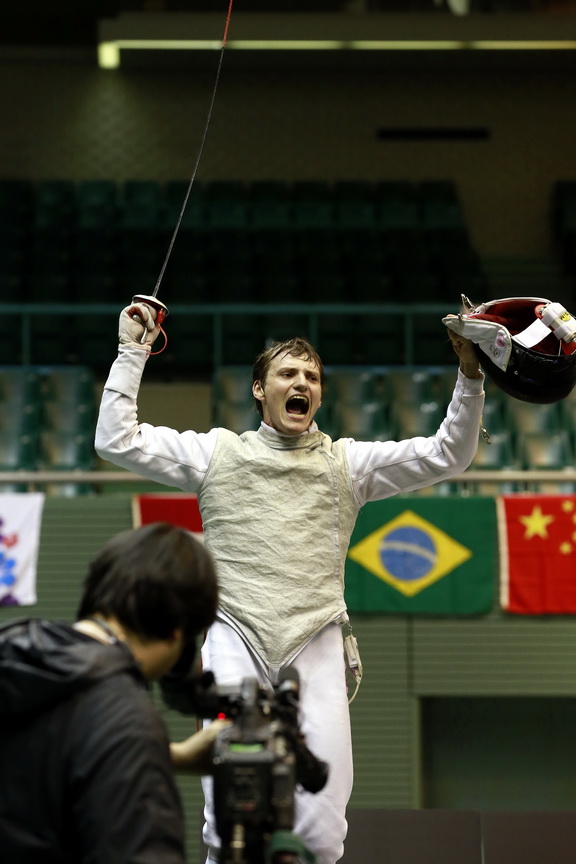 The Russian foil squads are exerting their newfound dominance in foil with world cup wins this weekend as the FIE senior circuit hits Asia. Team USA gets another medal from another fencers as Gerek Meinhardt steps up for a silver and demonstrates how deep the US team is.
Alexey Cheremisinov (RUS) and Larisa Korobeynikova (RUS) took down their respective tournaments – making the off-season hiring of Stefano Cerioni look even better.
Men's Foil – Prince Takamado Grand Prix
Gerek Meinhardt had a great weekend, finishing 2nd at this past weekend's Prince Takamado Grand Prix. With an initial seeding of tenth, Meinhardt faced off against Dmitry Rigin (RUS) in the table of 64, starting the tournament off with a 15-10 victory. His next opponent was Marcel Marcilloux (FRA) in the table of 32, where Meinhardt had a 15-3 victory. In the table of 16 he went up against Renal Ganeev (RUS), where he had another smooth 15-7 victory. In the quarter finals he beat Artem Sedov (RUS) 15-11, and then Julien Mertine (FRA) in the semifinals 15-13.
In the final, Meinhardt faced off Alexey Cheremisinov (RUS). Cheremisinov ended the American's win streak and took gold with a 15-6 victory. For complete results, visit the FIE's page.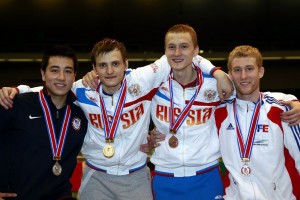 Shanghai Women's Foil Individual – Near Sweep for Russia

Meanwhile in Shanghai, Russia claimed a similar sweep of the podium in the Women's Foil individuals and claimed four of the Top 8 spots.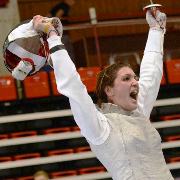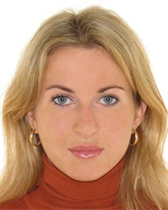 Inna Deriglazova (RUS) was denied her 5th title of the season, sharing the 3rd place spot with Arianna Errigo (ITA). Deriglazova began her day in the table of 64 up against Eman Gaber (EGY) and won smoothly, 15-4. She then faced off against Yuhong Shi (CHN), who in the previous round narrowly defeated Deriglazova's teammate Adelina Zagidullina 15-14. Deriglazova claimed victory over Shi, 15-11. She was then matched up against Alice Volpi (ITA), who had also defeated one of her teammates, Viktoria Kozyreva in the previous round 15-6. Her win streak continued with a 15-8 victory over the Italian, and then Yongshi Liu (CHN) 15-10.
Deriglazova was eliminated in the semifinals by her teammate Diana Yakovleva 15-11. Yakovleva faced off against her other teammate Larisa Korobeynikova in the finals, losing 15-9. Elisa Di Francisca (ITA) finished 5th, Yulia Biryukova (RUS) 6th, Yongshi Liu 7th, and Karolina Chlewinska (POL) 8th. Nzingha Prescod (USA) missed the Top 8 spot, placing 9th after being knocked out in the table of 16 by Korobeynikova.
Other American results: Jacqueline Dubrovich placed 15th, Sabrina Massialas 60th, and Nicole Ross 78th.
For complete results, available via the FIE.