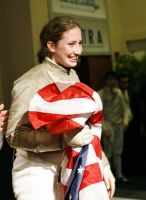 Becca Ward stepped down from the international fencing scene after winning two bronze medals at the 2008 Olympic Games to concentrate on her studies at Duke University.
While at Duke, Ward went on to win 3 NCAA championships in Women's Sabre.
Now, she spends some of her free time when not working for a DC lobbying firm to teach fencing to kids at the Arlington Fencers' Club.  "With kids, you get to teach the basic concepts and see things click in their heads," says Ward of teaching.
Check out the rest of this article by Rachel Hatzipanagos over at Patch.com.