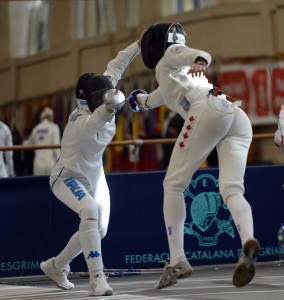 Canada's Sherraine Schalm has hung up her epee. The 4 time Olympian was Canada's first world championship medalist, capturing bronze in 2005's individual epee event. She went on to take silver in 2009.
Schalm gained a bit of celebrity with her 2005 autobiography Running With Swords which chronicled her life growing up in Canada and on the Junior fencing circuit. (Worth a read for any fencer looking to get international experience.)
"Fencing changed my life, only and entirely for the better, forming my family and life trajectory in a way I could have never predicted but for which I am extremely grateful," Schalm said Friday in a statement.
Schalm's best fencing season came in 2005-2006 where she took the podium in 8 of her 9 regular season world cup tournaments, winning 5. She topped the regular season FIE standings but came in 17th at the 2006 World Championships.
Here's Sherraine doing an interview at the London Olympics: