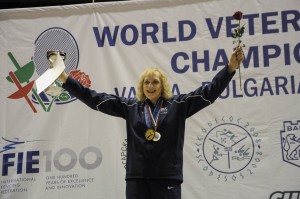 At the 2013 Veteran's World Fencing Championships, Elizabeth Kocab (USA) won the Vet 60 Women's Epee event. She defeated Karin Jansen (GER) 10-6 in the finals. She won her prior DE's 10-4, 10-2, and 10-3.
Other US medalists include Ellen O'Leary who took silver in the Vet 70 Women's Sabre event. She lost in the finals to Marie Demaille (FRA) 10-6 in the finals.
In the Vet 60 Men's Foil, won by Japan's Yutaka Yamazaki who defeated Jeno Pap (HUN) in a 10-9 gold medal bout! The top US finish was by Joseph Streb who placed 6th.
Finally, in the Vet 70 Men's Epee, Ermes Cassago (ITA) defeated Robert Schiel (LUX) 10-5 in the championship match.
Final Results – Veteran's World Championships for October 3rd, 2013:
Vet 60 Women's Epee
1 KOCAB Elizabeth USA
2 JANSEN Karin GER
3 DELACOUR Brigitte FRA
3 HOFFMANN Ibolya HUN
5 SOMEROJA Marja Luisa FIN
6 GARDINI Iris ITA
7 HALDANE Fiona GBR
8 MARTIN Annick FRA
9 NAEGELE Brigitte GER
10 MAYOROVA Liubov RUS
11 LEPELTIER Marie Jose FRA
11 RUNYON Cynthia USA
13 HENDRICKS Judith AUT
14 REAM Jann USA
15 BENDER Elfi GER
16 BRAUN Heidi GER
17 AHER Bonnie USA
18 TELLO Cledola BRA
19 YAMADA Yoriko JPN
20 EARL Silvia GBR
21 STOSCHITSKY Edith AUT
22 IAKOVLEVA Saniya RUS
23 VON MURALT Doris SUI
24 ELVIN Kate GBR
25 OLIVER Caryl GBR
26 BLOM Allison AUS
27 MARTIN Brigitte FRA
28 NIEUWENHUIS Cecelia RSA
Vet 70 Women's Sabre:
1 DEMAILLE Marie FRA
2 O'LEARY Ellen USA
3 FELTY Louisa USA
3 TACHIBANA Yoshiko JPN
5 BROWN Sylvia GBR
6 GREUNKE Brigitte GER
7 TADZHIEVA Ksenia RUS
8 ADAM Constance GBR
9 KITAMI Motoko JPN
10 GREEN Sherry USA
11 BUNN Irina GER
12 SHINKI Masako JPN
13 JACKSON Una USA
Vet 60 Men's Foil
1 YAMAZAKI Yutaka JPN
2 PAP Jeno HUN
3 HINOSHITA Kenichi JPN
3 IMREH Laszlo HUN
5 PAROLI Giulio ITA
6 STREB Joseph USA
7 PARISI Pasquale ITA
8 CHUBAROW Vladimir GER
9 BIEBEL Joseph USA
10 FILIPPI Fabrizio ITA
11 HAMBARZUMIAN Heik USA
12 FOX Stephen GBR
13 LUTTON Thomas USA
14 HIRUKAWA Koichi JPN
15 PAUL Graham GBR
16 FONTANA Jean Francois FRA
17 LOWEN Paul GBR
18 BALLARD Mark CAN
19 PURDIE Richard AUS
20 IDE Eiichi JPN
21 KACHUR Bruno GER
22 ANASTASOV Aleksandar MKD
23 PRATER Ralph GER
24 SCHAUM Berthold GER
25 CAUSTON Brian GBR
26 ZAKIROV Ravil RUS
27 GERENCSER Ondrej SVK
28 ALABUZHIN Petr RUS
29 ABDOUKADYROV Socrate FRA
30 DE BARTOLOMEIS Arturo ITA
31 KISSEL Pierre FRA
32 AREFYEV Oleg RUS
33 INDZHEV Ognyan BUL
34 PINCEMAILLE Benoit FRA
35 BERNHARD Marco SUI
Vet 70 Men's Epee
1 CASSAGO Ermes ITA
2 SCHIEL Robert LUX
3 FARE Malcolm GBR
3 MUNSTER Reinhard DEN
5 PHELPS Robert GBR
6 KLEIN Tomas GER
7 CARS Hans-Christian SWE
8 CALDERON Peter USA
9 OSBALDESTON Wil GBR
10 CAFIERO Giuzeppe ITA
11 ALLKAEMPER Diete GER
12 LENOIR Jean Luc FRA
13 SEXTON Ray USA
14 CHILO Imrich SVK
15 SZENTKIRALYI Istu HUN
16 MIERNIK Marcel USA
17 AFTANDILOV Gary RUS
18 CHOUVIAT Jean Pier FRA
19 BOISCO Renzo SUI
20 BOITEL Jean-Paul FRA
20 KUR Friedrich GER
22 HECKE Dieter GER
23 TAU Bac CAN
24 BUCHER Peter SUI
25 STANGELAND Eyvi NOR
26 FUJITA Shozo JPN
27 GREEN Christopher GBR
28 POKA Laszlo HUN
29 ROUILLARD Domini FRA
30 GUDJEV Vasil BUL
31 MONTI Luigi Pietro ITA
32 OKUDERA Michihiro JPN
33 GACESA Slobodan CRO
34 CAMPE Kazimieras USA
35 HIRSCHI Jurg SUI
36 DZHANTIMIROV K RUS
37 SKVIRA Serhii UKR
38 SHINKI Akira JPN
39 BEONIO BROCCHIE ITA
40 SIMMONS Hodard CAN
41 OTTENDORFER Her AUT
42 CHREN Dominik CZE
43 BRANDIS Cordt NOR
44 MITANI Naojiro JPN