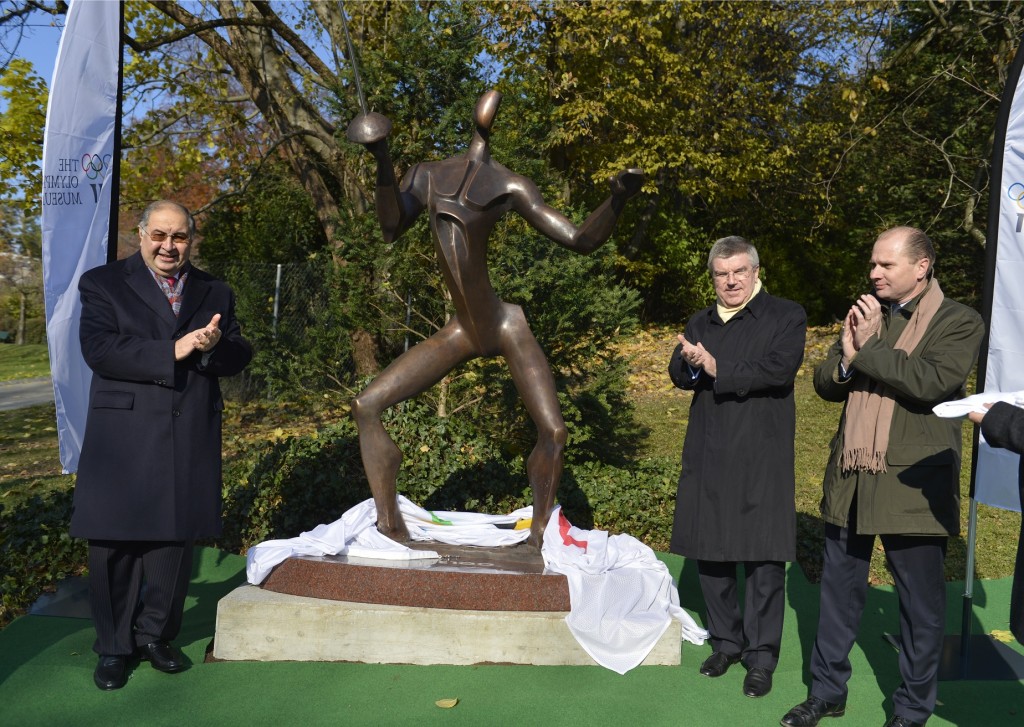 Lausanne, 27 November 2013 – Today, Alisher Usmanov, President of the International Fencing Federation (FIE), and the IOC President Thomas Bach unveiled a statue presented by the FIE to the Olympic Museum in Lausanne. The "Allegory of Fencing" by Czech artist Václav Cesák was given to the Olympic Museum in celebration of the FIE's centennial in 2013.
Among approximately 75 distinguished guests attending the ceremony were Francis Gabet, Director of the Olympic Museum, and Philippe Leuba, State Councillor for the economy and sports of the canton of Vaud.
FIE President Alisher Usmanov commented after the ceremony: "Today is an important day for the FIE as we are celebrating our centennial with unveiling the statue. We have been a member of the Olympic Movement since its founding, and the statue hails strong ties between fencing and the Movement. It is a symbol of our shared values and history. Furthermore, it stands for our future cooperation. We will always support the Olympic idea and the IOC's efforts to reach out to young people around the world."
IOC President Bach said: "The IOC is extremely grateful for this donation and pleased that such an inspiring statue finds a new home in the gardens of the Olympic Museum in Lausanne. Fencing is a sport that has a long Olympic history and the relations that the IOC and the FIE have built over the years have led to a strong partnership that we look forward to nurturing in the future. I would like to thank the FIE and its President for its ongoing support in promoting our values and wish them all the best in the celebrations of their 100th anniversary."
The statue is cast in the highest-quality bronze and placed on a pedestal made of African Red granite, with the FIE logo and an inscription: "Cette statue a été offerte au Musée Olympique par la FIE à l'occasion de son 100e anniversaire" (This statue was presented to the Olympic Museum by the FIE on the occasion of its 100th anniversary).
The unveiling ceremony was the first of the key events of the FIE's centennial celebrations this weekend. On Friday 29 November, the FIE Centennial Congress will be held in Paris, which will close with the Gala Dinner in the Automobile Club de France in Paris, the exact place where the FIE was founded 100 years ago.