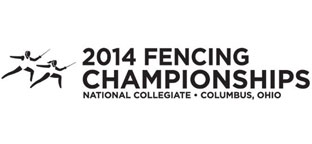 INDIANAPOLIS — The NCAA Men's and Women's Fencing Committee has announced the field of 144 competitors who will participate in the 2014 National Collegiate Men's and Women's Fencing Championships. Ohio State will host the championships at French Fieldhouse in Columbus, Ohio.
Among the field are 3 members of the 2012 US Olympic Fencing Team, Men's Foilists Gerek Meinhardt (Notre Dame) and Alexander Massialas (Stanford) as well as Women's Epeeist Susannah Scanlan (Princeton).
The men's and women's fencing championships include individual events in each of the six weapons (men's épée, men's foil, men's sabre, women's épée, women's foil, women's sabre).
Fencers will compete in a round-robin format of five-touch bouts.  After the round-robin, the top-four finishers in each weapon will fence in semifinal 15-touch bouts, with the winners fencing to determine first and second places, and the non-advancing fencers being awarded a tie for third place.
An institution's place finish in the championships will be based on points earned by each individual.  A team will be awarded one point for each victory by its student-athletes for the duration of the championships. In 2013, Princeton won the NCAA championships followed by Notre Dame and then Penn State.
3 schools (Ohio State, Penn State, and Princeton) qualified the maximum of 12 athletes. Based on the scoring for NCAAs, having more athletes qualified gives the school a greater chance at amassing the points needed to win the overall NCAA championship. With 11 fencers qualified, Harvard and St. John's look to be in contention also. Columbia and Notre Dame will have their work cut out for them with 10 fencers qualified in the tournament.
 Total fencers qualified by school:
| | | |
| --- | --- | --- |
| School |   | Total Qualified |
| Ohio State | | 12 |
| Penn State | | 12 |
| Princeton | | 12 |
| Harvard | | 11 |
| St. John's (N.Y.) | | 11 |
| Columbia-Barnard | | 10 |
| Notre Dame | | 10 |
| Penn | | 9 |
| Stanford | | 7 |
| Air Force | | 5 |
| Duke | | 5 |
| Northwestern | | 5 |
| Sacred Heart | | 5 |
| Yale | | 5 |
| Brown | | 4 |
| Temple | | 4 |
| Brandeis | | 3 |
| Wayne State (Mich.) | | 3 |
| Cornell | | 2 |
| MIT | | 2 |
| New York University | | 2 |
| North Carolina | | 2 |
| Cleveland State | | 1 |
| NJIT | | 1 |
| UC-San Diego | | 1 |
Individuals Qualified for the 2014 NCAA Fencing Championships
The following individuals were selected to participate in this year's championships:
Men's Epee
| | | |
| --- | --- | --- |
| Simon Jones | Brown | Northeast |
| Paul Duchow | Cleveland State | Midwest |
| Brian Ro | Columbia-Barnard | Northeast |
| Jake Hoyle | Columbia-Barnard | Northeast |
| Alessio Santoro | Duke | Mid-Atlantic/South |
| Dylan Nollner | Duke | Mid-Atlantic/South |
| Alexander Eldeib | Harvard | Northeast |
| Mike Raynis | Harvard | Northeast |
| Joseph Rafidi | MIT | Northeast |
| Garrett McGrath | Notre Dame | Midwest |
| Inaki de Guzman | Ohio State | Midwest |
| Kristian Boyadzhiev | Ohio State | Midwest |
| Clifford Fishler | Penn | Mid-Atlantic/South |
| Royce Shipp | Penn | Mid-Atlantic/South |
| Conor Shepard | Penn State | Mid-Atlantic/South |
| Yasser Mahmoud | Penn State | Mid-Atlantic/South |
| Alex House | Princeton | Mid-Atlantic/South |
| Jack Hudson | Princeton | Mid-Atlantic/South |
| Charles Clark | Sacred Heart | Northeast |
| Jonathan Jacovino | Sacred Heart | Northeast |
| Cooper Schumacher | St. John's (N.Y.) | Northeast |
| Yevgeniy Karyuchenko | St. John's (N.Y.) | Northeast |
| Jake Harbour | Stanford | West |
| Paul Riviere | Stanford | West |
Men's Foil
| | | |
| --- | --- | --- |
| Alex Chiang | Air Force | West |
| Noah Berman | Brandeis | Northeast |
| Adam Mathieu | Columbia-Barnard | Northeast |
| Harrison Bergman | Columbia-Barnard | Northeast |
| Joseph Lam | Duke | Mid-Atlantic/South |
| Brian Kaneshige | Harvard | Northeast |
| Michael Woo | Harvard | Northeast |
| Christian Vastola | New York University | Northeast |
| David Kong | NJIT | Mid-Atlantic/South |
| Gerek Meinhardt | Notre Dame | Midwest |
| Kristjan Archer | Notre Dame | Midwest |
| Christopher Colley | Ohio State | Midwest |
| Zain Shaito | Ohio State | Midwest |
| Jason Chang | Penn | Mid-Atlantic/South |
| David Willette | Penn State | Mid-Atlantic/South |
| Nobuo Bravo | Penn State | Mid-Atlantic/South |
| Michael Dudey | Princeton | Mid-Atlantic/South |
| Rodney Chen | Princeton | Mid-Atlantic/South |
| Andrew Holmes | Sacred Heart | Northeast |
| Max Blitzer | St. John's (N.Y.) | Northeast |
| Michele Caporizzi | St. John's (N.Y.) | Northeast |
| Alex Massialas | Stanford | West |
| Stephan Aman | Stanford | West |
| Quentin Schneider | Wayne State (Mich.) | Midwest |
Men's Sabre
| | | |
| --- | --- | --- |
| Ryan Redhead | Air Force | West |
| Adam Mandel | Brandeis | Northeast |
| Geoffrey Loss | Columbia-Barnard | Northeast |
| William Spear | Columbia-Barnard | Northeast |
| Chris Monti | Duke | Mid-Atlantic/South |
| Alexander Ryjik | Harvard | Northeast |
| Eric Arzoian | Harvard | Northeast |
| Andrew Kelly | New York University | Northeast |
| Sam Austin | North Carolina | Mid-Atlantic/South |
| John Hallsten | Notre Dame | Midwest |
| Kevin Hassett | Notre Dame | Midwest |
| Fares Arfa | Ohio State | Midwest |
| Ryhs Douglas | Ohio State | Midwest |
| Shaul Gordon | Penn | Mid-Atlantic/South |
| Steven Yang | Penn | Mid-Atlantic/South |
| Adrian Bak | Penn State | Mid-Atlantic/South |
| Kaito Streets | Penn State | Mid-Atlantic/South |
| Peter Pak | Princeton | Mid-Atlantic/South |
| Philip Dershwitz | Princeton | Mid-Atlantic/South |
| Ferenc Valkai | St. John's (N.Y.) | Northeast |
| Roman Sydorenko | St. John's (N.Y.) | Northeast |
| Travis Tibbitts | UC-San Diego | West |
| Hugh O'Cinneide | Yale | Northeast |
| Reed Srere | Yale | Northeast |
Women's Epee
| | | |
| --- | --- | --- |
| Mason Speta | Columbia-Barnard | Northeast |
| Victoria Wines | Cornell | Northeast |
| Sarah Collins | Duke | Mid-Atlantic/South |
| Emma Vaggo | Harvard | Northeast |
| Isabel DiTella | Harvard | Northeast |
| Courtney Dumas | Northwestern | Midwest |
| Dina Bazarbayeva | Northwestern | Midwest |
| Ashley Severson | Notre Dame | Midwest |
| Nicole Ameli | Notre Dame | Midwest |
| Caroline Piasecka | Ohio State | Midwest |
| Eugenia Falqui | Ohio State | Midwest |
| Aleina Edwards | Penn | Mid-Atlantic/South |
| Jessica O'Neil-Lyublinsky | Penn State | Mid-Atlantic/South |
| Jessie Gottesman-Radanovich | Penn State | Mid-Atlantic/South |
| Katherine Holmes | Princeton | Mid-Atlantic/South |
| Susannah Scanlan | Princeton | Mid-Atlantic/South |
| Megan Floyd | Sacred Heart | Northeast |
| Alina Ferdman | St. John's (N.Y.) | Northeast |
| Isis Washington | St. John's (N.Y.) | Northeast |
| Francesca Bassa | Stanford | West |
| Vivian Kong | Stanford | West |
| Chantal Montrose | Temple | Mid-Atlantic/South |
| Rachael Clark | Temple | Mid-Atlantic/South |
| Katherine Miller | Yale | Northeast |
Women's Foil
| | | |
| --- | --- | --- |
| Madeleine Girardot | Air Force | West |
| Mary McElwee | Air Force | West |
| Caroline Mattos | Brandeis | Northeast |
| Kathryn Hawrot | Brown | Northeast |
| Jackie Dubrovich | Columbia-Barnard | Northeast |
| Sara Taffel | Columbia-Barnard | Northeast |
| Angelica Gangemi | Cornell | Northeast |
| Alexandra Kiefer | Harvard | Northeast |
| Jennifer Yamin | Northwestern | Midwest |
| Lee Kiefer | Notre Dame | Midwest |
| Madison Zeiss | Notre Dame | Midwest |
| Mona Shaito | Ohio State | Midwest |
| Alanna Goldie | Ohio State | Midwest |
| Cassidy Seidl | Penn | Mid-Atlantic/South |
| Luona Wang | Penn | Mid-Atlantic/South |
| Alina Antokhina | Penn State | Mid-Atlantic/South |
| Clarisse Luminet | Penn State | Mid-Atlantic/South |
| Ambika Singh | Princeton | Mid-Atlantic/South |
| Sharon Gao | Princeton | Mid-Atlantic/South |
| Irene Spezzamonte | St. John's (N.Y.) | Northeast |
| Marta Hausman | St. John's (N.Y.) | Northeast |
| Fatima Largaespada | Temple | Mid-Atlantic/South |
| Zuzanna Sobczak | Wayne State (Mich.) | Midwest |
| Lauren Miller | Yale | Northeast |
Women's Sabre
| | | |
| --- | --- | --- |
| Alyssa Hofelina | Air Force | West |
| Caitlin Taylor | Brown | Northeast |
| Christine Whalen | Brown | Northeast |
| Sarah Yee | Columbia-Barnard | Northeast |
| Adrienne Jarocki | Harvard | Northeast |
| Aliya Itzkowitz | Harvard | Northeast |
| Cordelia Avery | MIT | Northeast |
| Gillian Litynski | North Carolina | Mid-Atlantic/South |
| Alisha Gomez-Shah | Northwestern | Midwest |
| Julia Abelsky | Northwestern | Midwest |
| Johanna Thill | Notre Dame | Midwest |
| Alexa Antipas | Ohio State | Midwest |
| Celina Merza | Ohio State | Midwest |
| Shyria Joshi | Penn | Mid-Atlantic/South |
| Nicole Glon | Penn State | Mid-Atlantic/South |
| Teodora Kakhiani | Penn State | Mid-Atlantic/South |
| Diamond Wheeler | Princeton | Mid-Atlantic/South |
| Gracie Stone | Princeton | Mid-Atlantic/South |
| Julia Greene | Sacred Heart | Northeast |
| Alexandra Tannous | St. John's (N.Y.) | Northeast |
| Alexa Rohan | Stanford | West |
| Tiki Kastor | Temple | Mid-Atlantic/South |
| Kaja Klodawska | Wayne State (Mich.) | Midwest |
| Joanna Lew | Yale | Northeast |