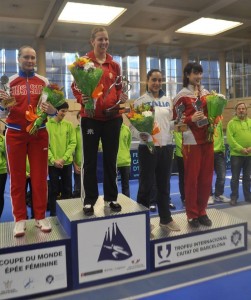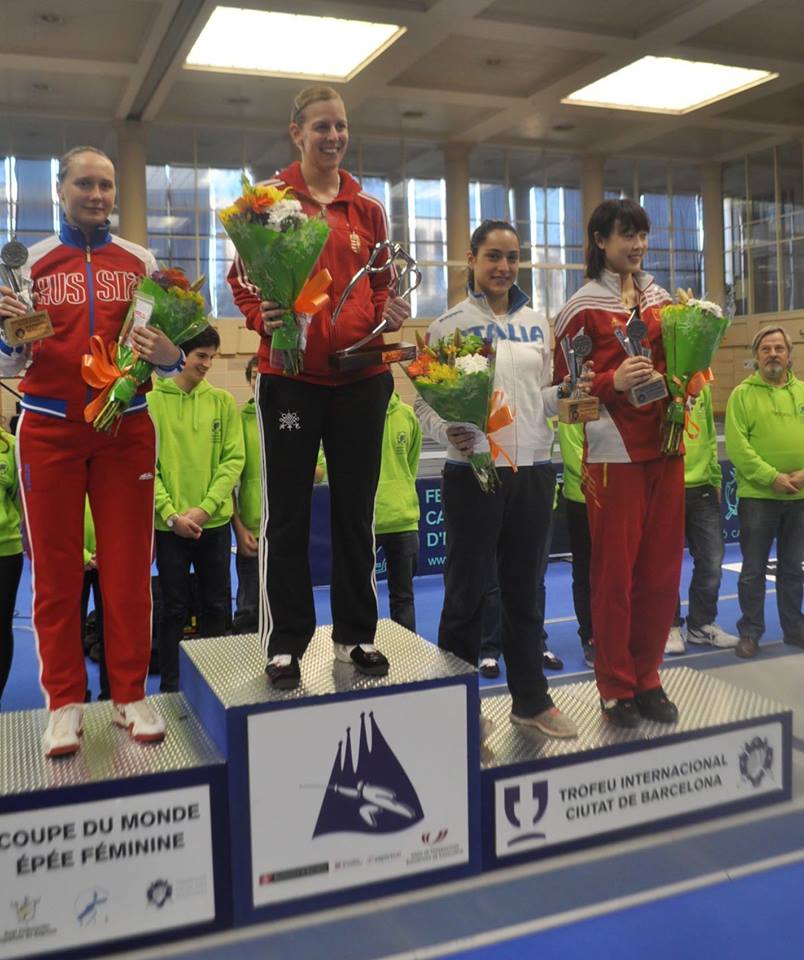 At the 2014 Women's Epee World Cup in Barcelona Emese Szasz (HUN) claimed her first gold medal of the season. Earning silver was Yana Zvereva (RUS), with Xue Qin (CHN) and Alberta Santuccio (ITA) sharing bronze. Ana Maria Branza (ROU) had her second lowest finish of the season, sitting 9th overall. No American made it out of the Table 32 but saw success in Sunday's team event.
Overview of pools and byes into the Round of 64 was covered on Friday [link].
The day began with an upset on world #2 Anna Sivkova (RUS), who fell to Helene Ngom (FRA) 15-13. Sivkova finished 33rd overall, but the disastrous finish and Szasz's victory dropped the Russian from second to third overall in the FIE rankings. Szaz climbed up to second behind Branza. It will be difficult for Sivkova to reclaim that spot if she does not out perform Szaz in future competition. Ngom was then trounced 15-5 by Alberta Santuccio (ITA) in the Table of 32, after having to fence her own teammate Federica Santandrea.
Another upset occurred in the Table of 64 by 69th seeded Blanka Blach (POL), who pulled a win over 16th ranked Imke Duplitzer (GER) 15-12. She then faced off against her 17th seeded teammate Magdalena Piekarska, where she pulled a close win 15-14. Santuccio defeated Blach in the Table of 16, 15-6.
Elsewhere in the bracket, China saw early trouble when two of their fencers faced off in the 32. In the 64, Fangqin Hou (CHN) beat out Shin A Lam (KOR) 10-9. Her teammate Yixuan Xiang took on Kelley Hurley (USA) and won 14-12. Xiang claimed victory over Hou 15-12 and then faced off against Lyubov Shutova (RUS). Shutova had previously round knocked out Amanda Siricio in a to-time 14-13 bout. Shutova won over Xiang 15-11.
Upsets continued in the 64, with 76th seeded Tatyana Andryushina (RUS) besting 13th ranked Tiffany Geroudet (SUI) in a surprising 15-5 bout. Anna Van Brummen (USA), seeded 62nd, saw her own win against Yiwen Sun (CHN). Andryushina saw another win against Van Brummen, 15-14, but fell to Szaz 15-10.
Trouble did not begin for Branza like some of the other Top-8 fencers in 64. She smoothly began her day with a win over 14th ranked Sara Carpegna (ITA) 15-10. Branza began to struggle against Sheng Lin (CHN), but pulled away with a 12-9 victory. However, Lin's teammate Xue Qin was able to defeat Branza 15-11 to gain entrance to the quarterfinals.
Despite strong showings overall for China, they couldn't seem to catch a break with bracket matchups. Qin had to face off against teammate Yujie Sun, where she won 14-13. Meanwhile Szasz went up against Julia Beljajeva (EST) and made it look easy with a 15-4 win. With that momentum she easily bested Qin 15-9 to enter the finals.
On the other side of the Table of 8, only one of the top ranked 16 made an appearance. That was 14th ranked Violetta Kolobova (RUS), who much like the Chinese, had to fence off against teammate Yana Zvereva. Zvereva won 5-3 before taking on Santuccio. A 15-6 victory would match up Zvereva against Szasz. The Hungarian would be the final victor of the day, winning 15-10.
Team Event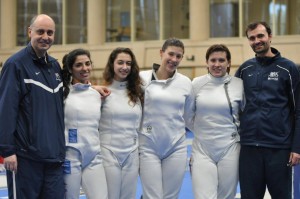 In the team competition Team USA was met with their second fourth place finish of the season, and pulled a fantastic upset.
The first matchup of the day was against the Czech Republic, where they won 45-40 in the round of 32.  Although shakey in the round of 16, the Americans were able to defeat Sweden by a score of 45-40. The Americans were able to find their groove in the round of 8 after pulling a surprising victory over first world ranked China 43-36. What spark they had left though went with their loss against Hungary 45-26.
In the placement rounds, the US team faced off against Romania, who had been knocked out by Russia 35-20. In the bronze medal bout, Team USA came very close to a medal, but missed out on the podium by one touch in the overtime minute with a 22-23 loss.
The 4th place finish moves the US team up to 6th in the world rankings.
For the final Russia and Hungary faced off, with Russia squeaking by with a 19-18 victory for gold.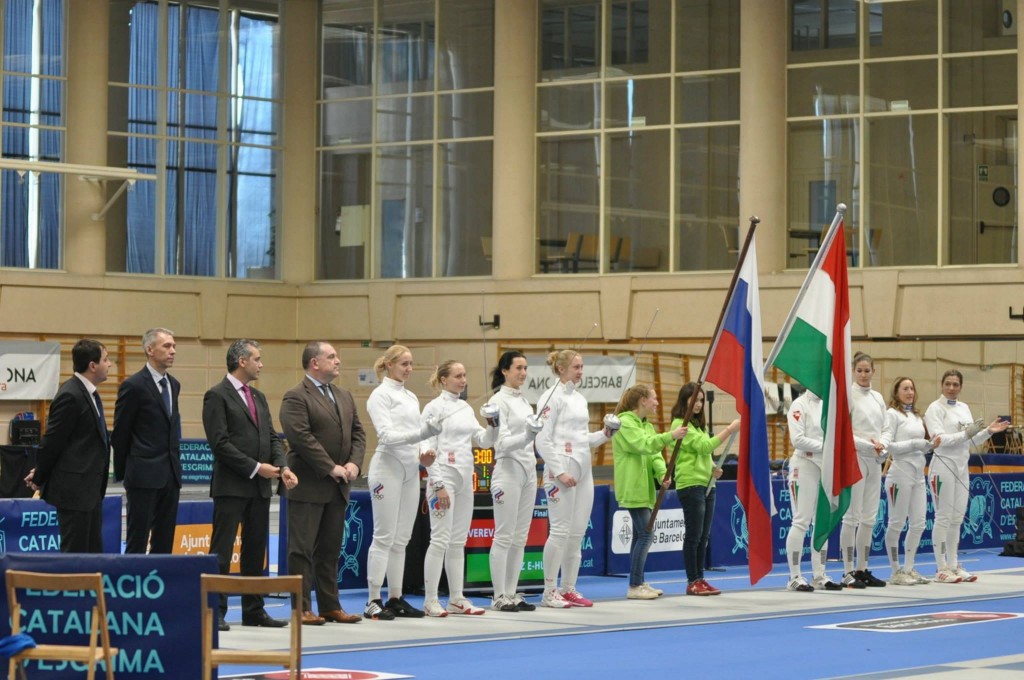 Top 8 Results – Women's Epee Team World Cup Barcelona
1. Russia
2. Hungary
3. Romania
4. USA
5. China
6. Italy
7. Ukraine
8. Switzerland
References:
FIE Results – Barcelona Women's Epee Team