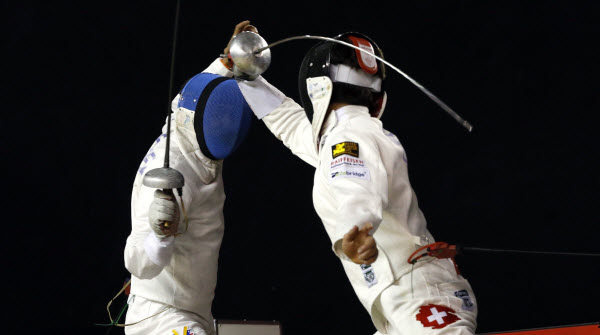 Thank you to my good friend Victor Malone who translated Max's questions from German, and to Leland Guillemin and the reddit community for providing input into the interview. 
Don't put your guard down if you have a lead against Max Heinzer. It's an opportunity he'll seize with pleasure. Don't think there's any area of target on your body that's immune to the deceptive, powerful touches of Heinzer. There isn't. If you think you've worked harder than Max Heinzer preparing for a tournament, you haven't. If you think an injury is an opportunity for vacation, then you haven't met Max Heinzer, who seemingly managed to improve his game following November surgery to his foot.
Max Heinzer is a global fencing phenom, currently ranked fourth in the world. Adversity seems to be the fuel of Max Heinzer. Whether he is down on an opponent, hobbled with injury, or weary from his intensive training regimen, Max's love of fencing, resilience, and relentless determination to be the best drives him through any hardship.
Heinzer has held the prestigious ranking of first in the world, and is a legitimate threat to capture the gold at the 2016 Rio Olympics. Heinzer has seven world cup wins to his name, winning the previous two Tallin World Cups, the previous THREE Berne World Cups, and picked up wins in Legnano and Lisbon on the way.
Heinzer is yet to win a World Championship, but the future is bright. His electric style is eye-opening, and his refusal to lose in any situation is worth a view from any fencer, beginner or elite. We sat down with Max Heinzer to discuss his legendary comebacks, his fencing ambitions, and of course, back flicks, a strong suit of his fencing:
Damien Lehfeldt: Tell me about your first memory with fencing in as much detail as you can remember.
Max Heinzer: I was 5 years old when my older brother (Michael) introduced me to fencing. I was instantly amazed by fencing got infected with the "fencing virus." When we were kids, my brother and I would often play "pirates," where we found our passion for fencing. There was a time, where my brother, my sister (Martina) and both my parents were fencing. We were a proper fencing family. My siblings both completed at world championships (Gdansk 2001 und Antalya 2002), after which they resigned.
DL: Max, this question came from Leland Guillemin, a Canadian epeeist and the Saskatchewan champion: How does it feel to be working with a legend like Angelo Mazzoni and how has his coaching helped to shape your style?
MH: At the moment I am working with my coach, Gianni Muzio, since I still have a lot to learn from his experience and coaching style. Angelo Mazzoni has been training me this season for world championships, and he has been a great mentor. All my life I have had different coaches. Up until I was 13 years old I only fenced foil. Only when I was 17 years old, I changed to epee exclusively. I believe I have become a formidable fencer and developed my own style, by picking up multiple nuances from multiple coaches.
DL: How do you feel about the current state of passivity rules in epee, and how has your game adapted to the rules?
MH: I think the rules in place are mostly good. When two fencers do not attack each other, the passivity rule facilitates quicker combat in a fencing bout. However, I believe there is still some room for improvement; for instance, I've never been a fan of limiting the time a fencer can score a touch to one minute. I believe it is too boring to prepare one minute for a hit – this really can be faster! Yet, as an athlete I respect the rules and try my best.
DL: Let's talk about your comeback against Silvio Fernandez. Down 14-8 and you still managed to bring back the score and win, a very difficult comeback to pull in epee!  How did you change yourself tactically in that bout, and what advice can you give to the fencing community on coming back when you're down?
MH: When you're down 14-8 with only 30 seconds until the end of the bout, you actually have a great advantage. Any nervousness is gone, since by that that point, you pretty much have lost. In order to win such a fight, you will need to have different attacking strategies, and mental fortuitousness. All defensive fencers in this scenario are punished, since you can't catch up just by playing defense.
Against Silvio Fernandez, I risked everything twice and succeeded. Then, I then changed my attacks, and consequently my self-confidence grew. In the last 2-3 attacks, I saw he was frightened and tried to do only score double touches, so with a lot of patience, I increased the pressure. In the final moments, I decided to defend against Fernandez after bringing it back. I often watch world-class fencers who give up when they're down 14-12 – that, I simply cannot understand.
DL: You use a lot of unorthodox training methods, like doing off balance blade work on a target. Can you walk us through what a typical day of training looks like for you in as much detail as possible?
MH: My daily training agendas are pretty different, so I'll walk you through a typical week. On a usual day, I take a 30 minutes lesson with Gianni Muzio. Afterwards, I fence for about an hour and a half with my teammates. Usually, I go to fifteen touches. I fence at a fast pace, and intensive, as if competing in a real bout. I go to fencing practice usually three to four times a week. Then, I swim one to two times a week for an hour. I would prefer to go jogging, but I currently have some issues with my foot that limit me. Then, I do an interval training (30-45 minutes) on a stationary bike. I also like to play badminton for two hours a week or so, where I can push myself to the limit. Then, I do 2-3 hours of strength and speed training. One hour massage does me a lot of good too! Then, twice a week, I do physiotherapy for my feet, such as balance exercises.
I had a foot operation in November, so I couldn't work with my legs for a couple of weeks, but I didn't wanted to lose my upper body strength, so I trained with a fencing arm dummy and my coach while I was sitting. After that I began to train with my fencing dummy-arm while off balance.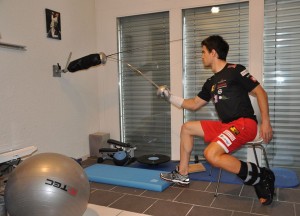 DL: I hope you get back to 100% soon, Max. Another question from Leland Guillemin: Who is your most difficult opponent to fence and why?
MH: Due to tactical reasons, this remains my secret…
DL: What do you need to work on between now and the Rio Olympics to best position yourself for a gold medal?
MH: On the one hand, I would like to make physical progress, so that I can fence for longer with a high rhythm and have fewer injuries. On the other hand, I would like to learn some new actions so that I can defeat anybody. All in all, I would like to improve my precision and point control.
DL: A final question from Leland: What is the most important piece of advice you can pass on to fencers breaking into the world cup circuit?
MH:  Since I can focus 100% on fencing, I have achieved more success. So, if one would like to establish himself in the world cup circuit, he must focus intently on fencing. In addition, one should prepare himself mentally; there are many "training/practice" champions, that have never competed at the world championships. One must succeed in training to show a better performance in world cups, not the other way around.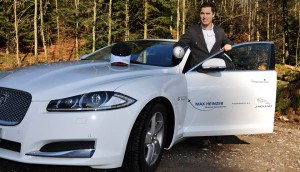 DL: An open-ended question for you: why do you love fencing?
MH: I love that fencing that is a sport where in many different areas (strength, speed, endurance, technique, tactics, mental ability) you have to be strong so you win. There are a lot of factors that make a champion in this sport. I love the fact that you have to make decisions in a short time and do your best to be smarter than your opponent!
DL: Will we see Max Heinzer competing in the Veterans-70 division?
MH: With my aggressive and offensive fencing style, being in Veterans-70 will be difficult. Let's just say…
"never say never!" But, I think when I am 70 years old I am more likely to be on my fishing boat rather than in the fencing hall.
DL: How much do you love to back flick?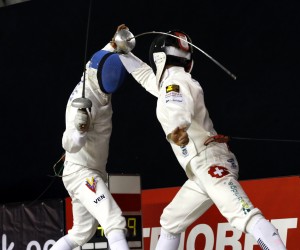 MH: The back flick I adopted from foil fencing, which I can often use. I love this hit and believe that it makes fencing more interesting, hitting your opponent straight gets boring. However, I had to find new variations of the back flick, since my opponents had studied me. Some time ago, I used to do it often.
Thank you very much for your interest in interviewing me, and sporty regards from Switzerland!
DL: Thank you Max, and best of luck to you as you continue to train for the Rio Olympic Games. You have many fans around the world and I wish you the best!