Romain Cannone of France entered the tournament as ranked #47 in the world and finished the night with Gold after defeating Gergely Siklosi of Hungary relatively handily at a score of 15-10. Cannone is relatively young compared to other elite epeeists and a bit less accomplished on average than the rest of the field. He came into this event #47 in the world and has been hovering around there since the 2018 season with no international medals to speak of. This is his first international medal, which is quite the way to kick things off.
Romain Cannone defeated Igor Reizlin of the Ukraine 15-10 in the semi-finals to make the Gold medal match.
Siklosi is also quite young but comparatively a bit more accomplished than Cannone. He has been consistently at the top of the world rankings since his breakout season in 2019 when he won Gold in the World Championships, but despite usually placing well in World Cups, he would rarely find his way onto the podium. This Silver medal really helps to cement himself as a top tier modern Men's Epeeist and a real threat at any event. Gergely Siklosi defeated Andrea Santarelli of Italy 15-10 in the semi-finals to make the Gold medal match.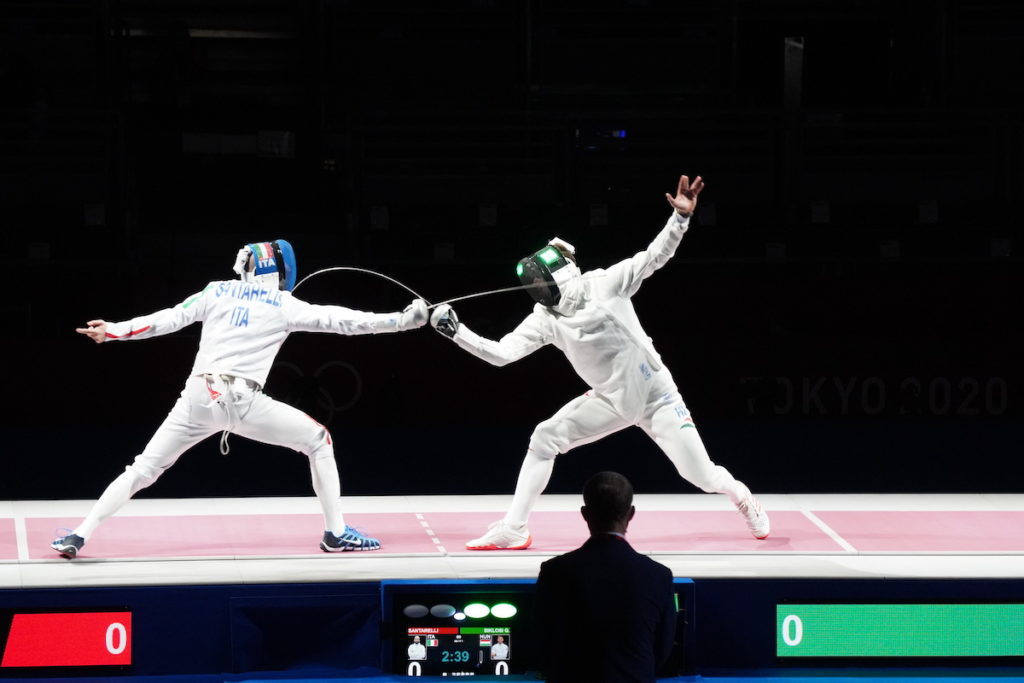 For the Bronze, Reizlin defeated Santarelli 15-12 after an entertaining bout full of impressive toe shots from Santarelli, though he fell behind a bit near the end and could not quite make up the difference in time before Reizlin's pressure closed out the bout. This Bronze goes along with Reizlin's bronze in the 2019 World Championships as his only international medals for the individual event.
Team USA's fortunes in the event were about even given the fact that this was the first Olympics for everyone on the team. Jacob Hoyle fell 10-15 to Rio 2016 Gold Medalist Park Sangyoung of South Korea. Curtis McDowald fell to Alexandre Bardenet of France 12-15. And Yeisser Ramirez fell to #2 seed Sergey Bida of the Russian Olympic Committee 2-15. All three losses were in the round of 32.
Full results can be found here. The Men's Epee Team event begins at 10AM JST on July 30th.