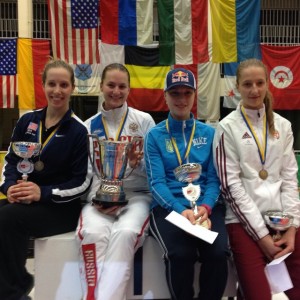 This past weekend Sofya Velikaya (RUS) claimed gold at the Challenge Yves Brasseur in Ghent, Belgium. After placing behind Olga Kharlan (UKR) twice, first at the Absolute Fencing Gear New York Sabre Grand Prix in New York and then at the Coupe du Monde in Athens, Greece, Velikaya finally bested the World's #1 Womens Sabre fencer in a close 15-13 match in the quarterfinals. She then went on to fence Mariel Zagunis, beating out the American 15-10. While both Kharlan and Zagunis retained their rankings, Velikaya went up and bumped her teammate from the #3 spot.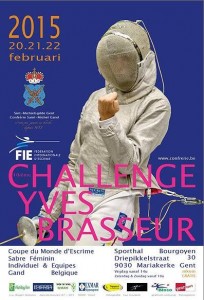 Ekaterina Dyachenko (RUS) was upset in the Table of 32 by current #22nd ranked Jisu Yoon (KOR) 12-15. She fell to #4 in rankings with her 17th place finish. Another upset in the Table of 32 was Dagmara Wozniak's defeat to current #50th ranked Anna Varhelyi (HUN) 13-15, placing her 18th and falling to the #5 spot.
Varhelyi continued an impressive run by defeating Katarzyna Kedziora (POL) 15-10 before falling to her teammate Anna Marton (HUN) 5-15. Finishing in 8th place, this was her highest finish of the season. Marton went on to fence Zagunis in the quarterfinals and lost 14-15.
Other US fencing finishes included Anne-Elizabeth Stone and Ibtihaj Muhammad placing 20th and 21st, respectively. Loweye Diedro finished 47th, Daria Schneider 58th, Kamali Thompson 61st and Monica Aksamit 64th.
The Top-16 was well represented by fencers from ten different countries, with South Korea having the most in at a count of three.
 Top 8 Results: 2015 Ghent Women's Sabre World Cup
1. Sofya Velikaya (RUS)
2. Mariel Zagunis (USA)
3. Olga Kharlan (UKR)
3. Anna Marton (HUN)
5. Jiyeon Kim (KOR)
6. Sabina Mikina (AZE)
7. Saoussen Boudiaf (FRA)
8. Anna Varhelyi (HUN)
Full results for individuals can be reviewed here.
Final Results: 2015 Ghent Team Women's Sabre World Cup
In the team event, #1 ranked Team USA began the day with a bye out of Table of 32. They then fenced Azerbaijan, defeating them 45-22. They then won a close match against South Korea in the quarter finals 45-41, but fell to France 35-45 in the top-4. Not to be discouraged, they came back against #2 ranked Team Russia for Bronze, 45-30.
Italy took gold by besting out France 45-40.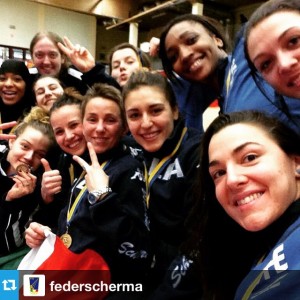 Top-8 Team Results:
1. Italy
2. France
3. USA
4. Russia
5. Korea
6. Poland
7. Spain
8. Germany
Full results for the team competition can be viewed here.
More information about the tournament's history can be seen on their website that also hosted live feeds of the matches.
Interested in comparing? Be sure to check out last year's recap of the event.