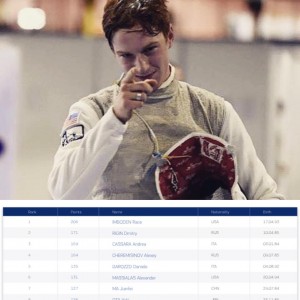 Race Imboden takes #1 Ranking in Men's Foil with 5 podium finishes.
Race Imboden has earned the top world ranking for men's foil in the FIE World Rankings list. The 22 year old Imboden is a three-time Pan American champion. He competed in the 2012 Summer Olympics and won a team silver medal in the 2013 World Fencing Championships and placed 9th at the 2014 World Championships individual event.
This season, he earned the top ranking with 5 podium finishes, including 3 outright wins over the FIE fencing season. He became the first American to win gold at the prestigious Challenge International de Paris.
Race Imboden leads #2 fencer Dmitry Rigin (RUS) by 35 points. Their next competition will be the 2015 World Championships in Moscow on July 15th-16th.
Race Imboden's Top-8 Finishes for the 2014-2015 Season:
1st Place, Pan American Championships
3rd Place, Havana Grand Prix
5th Place, Bonn World Cup (Löwe von Bonn)
1st Place, Paris World Cup (Challenge International de Paris)
3rd Place, Turin Grand Prix
1st Place, Tokyo World Cup (Prince Takamodo WC)
Race Imboden's last two events were both 18th place finishes at the St. Petersburg World Cup and Shanghai Grand Prix that do not factor into the point standings.