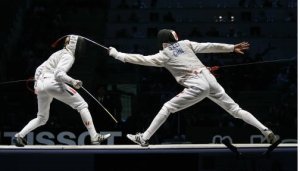 Lei Sheng (right) attacking Joppich in 2006. (c) FencingPhotos.com
Lei Sheng defeated Andrea Baldini 15-12 at the Venice foil grand prix event. Sheng (CHN) led a strong Chinese squad who placed 3 fencers (Sheng, Zhu Jun – 6th, Huang Liangcai – 9th) in the top 10.
Italy also placed 3 in the top 10 with Andrea Cassara (3rd) and Marco Ramacci (10th) joining Baldini.

This is Lei Sheng's second Grand Prix gold this season. Sheng also won the Paris Grand Prix and placed 3rd in La Coruna. After this weekend he should have 244 world cup points, which will put him in 6th place in the world ahead of Peter Joppich (GER).
The top US fencer was Kurt Getz, who took 18th. Getz rolled through his first bout 15-5 against Moritz Hinterseer (AUT) before falling in the 32 to Sebastian Bachmann (GER) 14-12. Other US finishes included Gerek Meinhardt (34th), Turner Caldwell (44th), Miles Chamley-Watson (52nd), Alexander Massialas (54th).
Placing outside of the top-64 were Andras Horanyi (78th), Henry Kennard (87th), and Benjamin Parkins (115)
Final Ranking – Venice Men's Foil Grand Prix
| | | |
| --- | --- | --- |
| Place | Fencer | Country |
| 1 | LEI Sheng | CHN |
| 2 | BALDINI Andrea | ITA |
| 3 | SEDOV Artem | RUS |
| 3 | CASSARA Andrea | ITA |
| 5 | OTA Yuki | JPN |
| 6 | ZHU Jun | CHN |
| 7 | JOPPICH Peter | GER |
| 8 | LE PECHOUX Erwan | FRA |
| 9 | HUANG Liangcai | CHN |
| 10 | RAMACCI Marco | ITA |
| 11 | CHIDA Kenta | JPN |
| 12 | SINTES Victor | FRA |
| 13 | BACHMANN Sebastian | GER |
| 14 | GANEEV Renal | RUS |
| 15 | LARI Tommaso | ITA |
| 16 | SCHLOSSER Roland | AUT |
| 17 | KRUSE Richard | GBR |
| 18 | GETZ Kurt | USA |
| 19 | KWON Young Ho | KOR |
| 20 | KHOVANSKY Alexey | RUS |
| 21 | AKHMATKHUZIN Artur | RUS |
| 21 | HALSTED Laurence | GBR |
| 23 | BEHR Dominik | GER |
| 24 | ZAWADA Marcin | POL |
| 24 | HATOEL Maor | ISR |
| 26 | ZHANG Liangliang | CHN |
| 27 | BARRERA Stefano | ITA |
| 28 | PITTA Guillaume | FRA |
| 29 | CHEREMISINOV Alexey | RUS |
| 30 | DARABAN Radu | ROU |
| 31 | JEFFERIES Edward | GBR |
| 32 | MARCILLOUX Marcel | FRA |
| 33 | GLONEK Radoslaw | POL |
| 34 | MEINHARDT Gerek | USA |
| 35 | JOUBERT Terence | FRA |
| 36 | PARK Hee Kyung | KOR |
| 37 | ASPROMONTE Valerio | ITA |
| 38 | AVOLA Giorgio | ITA |
| 38 | GRIDNEV Igor | RUS |
| 40 | NASSIBOULLINE Rouslan | RUS |
| 41 | JAULT Jerome | FRA |
| 42 | PAROLI Alessandro | ITA |
| 43 | MOCEK Slawomir | POL |
| 44 | CALDWELL Turner | USA |
| 45 | LALONDE TURBIDE Etienne | CAN |
| 45 | FOCONI Alessio | ITA |
| 47 | MERTINE Julien | FRA |
| 48 | GUSTINELLI Johann | GER |
| 49 | FUJINO Daiki | JPN |
| 50 | MINUTO Martino | ITA |
| 51 | JOVANOVIC Bojan | CRO |
| 52 | CHAMLEY-WATSON Miles | USA |
| 53 | SZEKI Bence | HUN |
| 54 | MASSIALAS Alexander | USA |
| 55 | HINTERSEER Moritz | AUT |
| 56 | CHEUNG Siu Lun | HKG |
| 57 | OR Tomer | ISR |
| 58 | VANNI Simone | ITA |
| 59 | NGAN Kwoon Yat | HKG |
| 60 | SZABADOS Gabor | HUN |
| 61 | ROSZKOWSKI Stefan | POL |
| 62 | SON Young Ki | KOR |
| 63 | JUNG Chang Yong | KOR |
| 64 | POGREBNYAK Andriy | UKR |
| 65 | STOUKALINE Alexandre | RUS |
| 66 | TRANI Francesco | ITA |
| 67 | KAWIECKI Pawel | POL |
| 68 | KLEIBRINK Benjamin | GER |
| 69 | SALISCAN Virgil | ROU |
| 70 | WITKOWSKI Andrzej | POL |
| 71 | MOCHKO Lucas | BRA |
| 72 | SHI Jialuo | CHN |
| 73 | BERJOZKIN Anton | HUN |
| 74 | YUNES Klod | UKR |
| 75 | BREUTNER Richard | GER |
| 76 | MAZZA Lorenzo | HUN |
| 77 | LI Hua | CHN |
| 78 | HORANYI Andras | USA |
| 79 | PRZYBYSLAWSKI Michal | POL |
| 80 | WESSELS Andre | GER |
| 80 | GATAI Robert | HUN |
| 82 | MIYAKE Ryo | JPN |
| 83 | KOLTYGO Volodymyr | UKR |
| 84 | COOK Keith | GBR |
| 85 | FUKUDA Yusuke | JPN |
| 86 | HINTERSEER Tobias | AUT |
| 87 | KENNARD Henry | USA |
| 88 | PRYMACK Anthony | CAN |
| 89 | GERMEAU Yannick | BEL |
| 90 | SIMONCELLI Luca | ITA |
| 91 | CADOT Jeremy | FRA |
| 92 | SCHLECHTWEG Christian | GER |
| 93 | DIACONU Alexandru Daniel | ROU |
| 94 | SIGOUIN Jean Francois | CAN |
| 95 | WOHLGEMUTH Dominik | AUT |
| 96 | JORGENSEN Philippe | DEN |
| 97 | STEINER Daniel | HUN |
| 98 | MACHER Thomas | AUT |
| 99 | OLIVEIRA Lucas | BRA |
| 100 | TEISSEIRE Nicolas | CAN |
| 101 | CIEPLY Tomasz | POL |
| 102 | ROSOWSKY Ahmed | GBR |
| 103 | KOMSIC Ivan | CRO |
| 104 | MULLER Federico Guillermo | ARG |
| 105 | DAGDEVIRENTURK Ali | TUR |
| 106 | PAGHIEV Boris | MDA |
| 107 | SZABADOS Kristof | HUN |
| 108 | OSMAN Wassim | ROU |
| 108 | GURINENKO Bogdan | UKR |
| 110 | CHU Wing Hong | HKG |
| 111 | AWAJI Suguru | JPN |
| 112 | SAUCEDO Felipe Guillermo | ARG |
| 113 | SCAVASIN Fernando | BRA |
| 114 | DEBIC Ozren | CRO |
| 115 | PARKINS Benjamin | USA |
| 116 | ANDERSEN Emil Ulrik | DEN |
| 117 | BIONDO Tobia | ITA |
| 118 | PEGGS Ben | GBR |
| 119 | MALAI Ivan | MDA |
| 120 | KUNDERA Vaclav | CZE |
| 121 | HORVATH Michal | SVK |
| 122 | PETRUSENCO Serghei | MDA |
| 123 | HORONY Tamas | SVK |
| 124 | ULUSAHIN Utku | TUR |
| 125 | SZEREMI Andras | HUN |
| 126 | SOUZA Joao Antonio | BRA |
| 127 | LEUNG Wing Fai Anthony | HKG |
| 128 | PANCHAN Nontapat | THA |
| 128 | DUDIAK Scott | CAN |
| 128 | SAITO Yu | JPN |
| 131 | MADR Vilem | CZE |
| 131 | PRICHYSTAL Miroslav | CZE |
| 133 | XAVIER Marco | BRA |
| 134 | HAFIDZ Ricky | INA |
| 135 | CARDOSO Marcos | BRA |
| 136 | SHIMBO Heitor | BRA |
| 137 | ICHIKAWA Kyoya | JPN |
| 137 | PRAYOGA Indra | INA |
| 137 | DOBIASCH Martin | AUT |
| 140 | BAIBICH Andre | BRA |
| 141 | KOSOVA Sercin | TUR |