The 2016 Soulard Mardi Gras – Choose from over 15 events in the city from January 6th through February 9th (Fat Tuesday) in the Soulard neighborhood near downtown St. Louis. In addition to classic festival music and food, special events like the Family Winter Carnival on January 9th and the Bud Light Party Tent spectacular on Fat Tuesday are on hand. Metro Transit will provide special event shuttles from downtown establishments to the celebration.
Perpetual Motion – The Center of Creative Arts (COCA) presents a foot-stomping, hand-clapping dance performance by the talented members of COCA dance and COCA Hip-Hop Crew. The new-wave contemporary and hip-hop routines will rejuvenate the spirit. Two shows are scheduled daily on Jan. 9th (2:00 & 5:00 p.m.) and Jan. 10th (1:00 & 4:00 p.m.). Tickets may be purchased in advance or at the door.
SLU vs. VCU Men's Basketball – For sports fans, college men's basketball dominates the area on Jan. 10th with a fierce bout at the Chaifetz Arena (on the corner of Compton Avenue & Forest Park). The St. Louis University Billikens battle the Virginia Commonwealth University Rams at 3:00 p.m., and is being broadcast by NBC Sports Network.
Good Food and Fast Eats In St. Louis
For a great after-dinner cocktail or a monster-sized sub sandwich, try one of the many downtown restaurants, cafes, bars, and sweet shops for any meal at any time of the day. Within walking distance from the America's Center are also coffee shops, street vendors, and convenience stores (7-eleven, Mac's, etc.) for snacks and quick bites. Most venues stay open past midnight every day, so getting a late-night meal is no problem, Cuisine types include classic American, Italian, Mexican, Mediterranean, Persian, and many others, with take-out and delivery options available.
Among top rated downtown eateries are:
Broadway Oyster Bar: 736 S. Broadway.
This restaurant is open until 3am, with the full kitchen open until 11pm with late night food until 2am. Even after that epee event you'll be able to get some great Cajun food. Also features live music to help get the buzzing of the scoring machines out of your ears!
Schlafly Tap Room: 2100 Locust St
This bar is open until 1am Wed-Sat and until 10pm on Sunday. This pub features a range of food including dishes with Eastern European influences and seasonal beers on tap.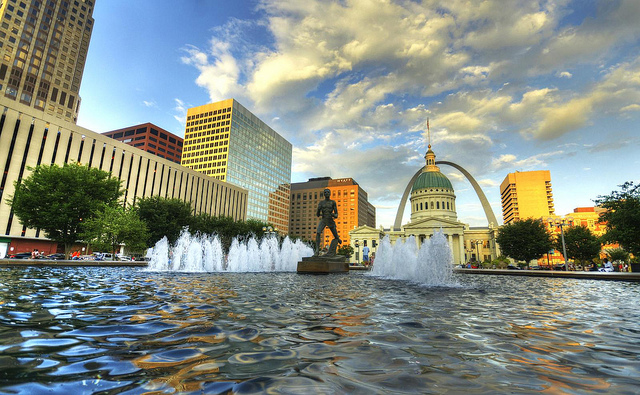 Transportation For Visitors in St. Louis
Transportation in St. Louis is not as expensive as most people think it is. Getting from Lambert Field (St. Louis Airport) to the America's Center or any other location downtown is filled with many options such as:
Metrolink/Metrobus – The Metro Red Line is connected to the airport at Terminals 1 and 2, and two bus routes depart from the airport daily. One-ride and all-day tickets can be purchased from vending machines on the rail platforms.
Downtown Shuttle – Go Best Express Airport Shuttle offers service to the downtown area every 15 to 30 minutes daily. Some area hotels and motels have airport courtesy transportation as well.
Taxis, Limousine, Sedan, and Van – Over 20 participating transportation providershave airport access 24 hours per day, seven days a week.
Car rental – Four auto rental companies (AVIS, Alamo, Budget, and Enterprise) have airport office locations, with model types ranging from subcompact to luxury at rates for less than $20 per day.
Hotels in St. Louis
The official NAC hotels for St. Louis are partially sold out. As of the time of publication available rooms at the US Fencing rate at the Embassy Suites St. Louis are sold out.