According to a new infographic, Hungarian fencer Aladar Gerevich is the 6th greatest Olympian ever. Taking into criteria such as the total number of medals, gold medals, individual gold medals, win percentage and the number of Olympic events competed in, Gerevich came out top over household names such as Usain Bolt, who came in two places behind at number 8.
With the 2016 Olympics fast approaching, we take a look back at achievements of not only the 6th greatest Olympian of all time, but arguably the best professional fencer to compete in the Olympics to date.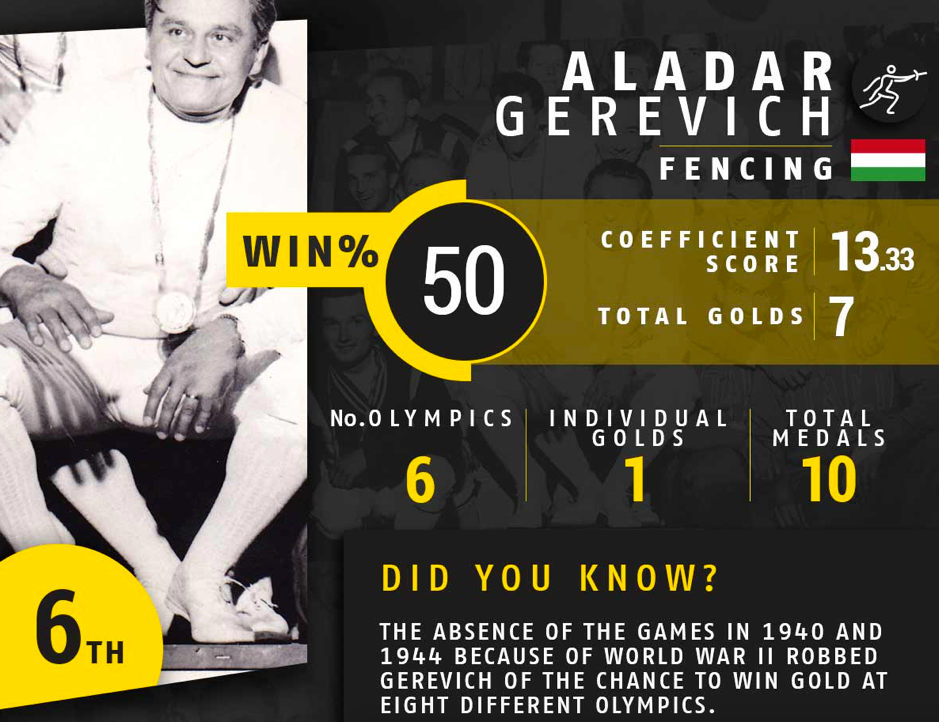 Born in Hungary in 1910, Gerevich made his Olympic debut at the 1932 games in Los Angeles, where he won his first ever Gold medal as part of the now-legendary Hungarian sabre team, which also featured the likes of Pal Kovacs and Rudolph Karpati. He and the rest of his team went on to win the Team Sabre golds at the next five Olympic competitions. Gerevich also had some success as an individual fencer, winning the Sabre gold in 1948, before claiming silver in the following tournament.

World War II meant that the games in 1940 and 1944 had to be cancelled. Such was the dominance that the Hungarian team enjoyed during this period, we can safely say that we would have been talking about Gerevich and his teammates as eight-time Olympic champions.

Going into the 1960 Games, the Hungarian Athletics committee were worried that Gerevich was a little too old to compete. The 50 year old was incensed by this decision, challenging the rest of the national sabre team to individual duels, to prove to the selectors he was still the best. He subsequently went on to beat every single one of them.

The records he has set in the Olympics down the years are incredible; Gerevich is the only athlete to ever win six gold medals in a single Olympic event. He has won medals on three different continents, spanning four different decades and with his last Gold coming in 1960, it meant that the gap between his first and last success was an astonishing 28 years.

No team, or fencer, since Gerevich retired has been able to dominate the sport in the same way the Hungarians did. Since 1960, no Sabre team has managed to win the Gold medal for more than two consecutive games. It's the same story in the individual ranks, as no player since Gerevich, or another member of that Hungarian team, has managed to win both Team and Olympic Sabre Golds at the same Olympic Games.

There is no doubting that Aladar Gerevich deserves his place on the list of the greatest all-time Olympians. His record of six consecutive Olympic wins still stands today and with the level of competition we are currently enjoying across all sports, it's hard to see his name being rubbed out of the record books anytime soon.