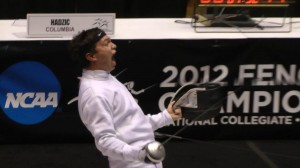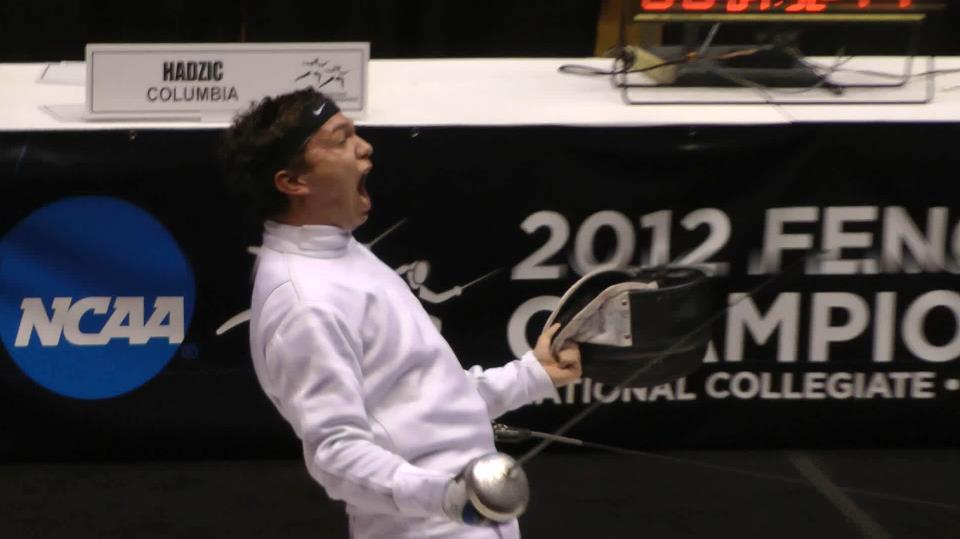 For 99.9%, the month of March is associated with March Madness. For us geeky fencing types, the only thing that matters this month is March Stabness.
2016 brings 144 of our nation's most talented fencers to my beloved alma mater, Brandeis University, where they will compete for individual titles, a team championship, and a coveted All-American slot. For those unaware of the format, the tournament is divided into six events: Men's Epee, Men's Foil, Men's Sabre, Women's Epee, Women's Foil, and Women's Sabre. Each event is comprised of 24 competitors who fence each other in five-touch, round robin format over the course of two days. At the conclusion of the round robin fencing, the school that has earned the most victories will be the NCAA team champions.
Once the round robin is complete, the top four fencers in each event compete in 15-touch single elimination bouts for the right to be crowned NCAA individual champion. The individual title is independent of the team championships.
My predictions cover the fencers I believe will be in the top 3 of each event, and my overall national champion predictions.
Men's Epee
The 2016 Men's Epee Field is far and away the most difficult field to predict. The talent in this event includes 2015 Champion Jake Hoyle (Columbia), 2014 Champion Yevgeniy Karyuchenko (SJU) who shockingly did not qualify last year, and a deep amount of younger talent that includes Darius Zacharakis (ND), Romain Cannone (SHU) Bryn Hammarberg (Duke), and Junior National Team member Justin Yoo (UPenn).
The field is so deep with a narrow margin between the best and the "worst" that I could look at 16/24 of the field and not be surprised if they make the semifinal rounds. It's crapshoot. My predictions as follows:
1. Justin Yoo (UPenn)
2. Curtis McDowald (SJU)
3. Romain Cannone (SHU)
3. Alex House (Princeton)
Dark Horses: Darius Zacharakis, Simon Jones
Men's Foil
With 2x NCAA Champion and Olympian Alex Massialas taking a year off to train for the Rio Olympics, this field becomes a wide open race for the Gold. Big news came in today as 2015 First Team All-American John Vaiani was ruled out with an illness, making the competition even more wide open.
As JR Ross would say, this is going to be a slobberknocker, the kind of brawl to make it into the top four that I would not be surprised if Don Anthony bellows "BAH GAWD SUZY PAXON THESE KIDS HAVE A FAMILY." Okay, maybe not that.
1. Nobuo Bravo (PSU)
2. Stas Sudilovsky (OSU)
3. Axel Kiefer (ND)
3. Stephen Mageras (Harvard)
Dark Horses: Adam Mathieu, Daniel Sconzo
Men's Saber
If Men's Epee is the most unpredictable field, Men's Saber is the toughest of them all. The duos some schools are fielding are absurd. PSU will feature 2014 and 2015 champions Kaito "Mean" Streets and Andrew "The Mack Truck" Mackiewicz, SJU will field 2015 First Team All-Americans Ferenc Valkai and Roman Sydorenko (freshman Ben Natanzon could have easily been an All-American if three were allowed to compete), and Notre Dame's Jonah Shainberg and Jonathan Fitzgerald are consistent in their five touch bout performances.
Outside of the duos, you have a few guys like Fares Arfa (OSU), 2013 Silver Medalist Shaul "Adachi" Gordon (UPenn) and freshman Mickey Bak (NYU) who could easily sneak into the top. My predictions:
1. Andrew Mackiewicz (PSU)
2. Ferenc Valkai (SJU)
3. Jonah Shainberg (ND)
3. Roman Sydorenko (SJU)
Dark Horses: Mickey Bak, Calvin Liang
Women's Epee
When in doubt, I pick Jessie "Radical" Radanovich (PSU) to win things. Both her NCAA and NAC performances this year have been spot on, and her teammate Jessica O'Neill-Lyubinsky provides a great podmate. These two will feed off of each other very well, and I suspect both will reach All-American status. 2015 First Team All-American Victoria "Don't Drink Too Many" Wines returns to the championship field, and her combined 22 NAC pool bout and regional bout wins this year project great success for her.
Keep an eye out for Princeton's Isabel Ford, who won 14 bouts at Ivy League Championships and is coming into NCAA Championships on a hot streak.
1. Jessie Radanovich (PSU)
2. Veronica Zuikova (SJU)
3. Victoria Wines (Cornell)
3. Isabel Ford (Princeton)
Dark Horses: Shawn Wallace, Katie Angen
Women's Foil
3x NCAA Champion Lee Kiefer taking off a year to train for the Olympics? No problem. Notre Dame has Sabrina Massialas ready to step up to the plate. Sources say she comes to Waltham to kick butt and chew bubble gum, and she's all out of bubble gum. Massialas posted a 29-4 regular season record, and casually won 15/16 of her bouts at regionals. She's probably going to win.
The rest of the field is full of talent, including the insanely consistent Jackie "Dubrovich Slap" Dubrovich and Sara "Laughy" Taffel (Columbia), and 2015 First Team All-Americans Alanna Goldie (OSU) and Marta Hausman (SJU).
The talent at the top of the NCAA WF field is astoundingly good. Between the individuals I listed above, I could see the semi-final qualifiers coming down to a touch or two.
1. Sabrina Massialas (ND)
2. Sara Taffel (Columbia)
3. Jackie Dubrovich (Columbia)
3. Marta Hausman (SJU)
Dark Horses: Angelica Gangemi, Eleanor Harvey
Women's Sabre
Talk about a loaded field. 2015's champion Francesca Russo (ND) returns, as does Harvard's powerful duo of Adrienne Jarocki and Aliya Itzkowitz. 2015 First Team All-American Teodara Kakhiani is back as well.
Ok, let me stop right here. I had to ask Boston Fencing Club Coaches David Sach and Peter Souders for help here, because I don't really know what I'm talking about. So this is kind of their prediction, not mine. But it's really mine. But it's kind of theirs.
1. Adrienne Jarocki (Harvard)
2. Francesca Russo (Notre Dame)
3. Aliya Itzkowitz (Harvard)
3. Gracie Stone (Princeton)
Dark Horses: Tara Hasset, Desirae Major
Team Champions: Notre Dame
I'm going to go with Notre Dame. With a fully loaded roster in both men's and women's, I see them edging out 2015 Champions Columbia by a narrow margin. Columbia won the 2015 by nine bouts last year. I suspect this will come down to the wire. Michael Aufrichtig is a wizard at rallying his troops, and it would not shock me to see Columbia repeat. But now, my gut is telling me Notre Dame.