Estonia's Nikolai Novosjolov and the Hungarian men's epee team have tasted victory at the FIE's Challenge SNCF Reseau Men's Epee World Cup event in Paris that happened between May 11-13.
Attracting over 300 of the world's best epee fencers and featuring 35 teams from around the globe, it was third-ranked Novosjolov, World Champion in 2010 and again in 2013, who took on world number two Bogdan Inishiki in the final, claiming victory 15-13.
Novosjolov, who last won a World Cup event back in 2012, when he took out his home event in Talin, Estonia, for the second time, used every bit of his experience to reach the decider. In his semi-final against Holland's Bas Varwijlen he was too good, just, managing a 15-13 victory to advance him to the gold medal round against Ukrainian Inishkin, who defeated Kyoungdoo Park from Korea in the other semi-final, 15-9.
Inishkin, who had also defeated USA's Curtis McDowald in his quarterfinal – the best result at a World Cup event for the American since his 8th place in El Salvador in the November of 2015 – nearly didn't make it past the table of 64.
Coming up against 30th ranked Spanish fencer, Yulen Pereira, he just scraped through, 14-13, before more comfortably dispatching the likes of Venezualan Francisco Limardo, 9-1.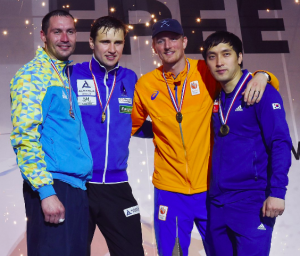 Nikishin, Novosjolov, Verwijlen, Park
In the all-important team event, Hungary won gold by defeating Korea by one touch in the final, 30-29. Hungary had beaten Ukraine in their semi-final 23-21, while Korea had been too strong for Israel, 45-36. In the playoff for third, Ukraine, led by Inishkin, defeated Israel 38-36.
Results
Individual
1. Nikolai Novosjolov (EST)
2. Bogdan Nikishin (UKR)
3. Kyoungdoo Park (KOR)
3. Bas Verwijlen (NED)
5. Andrea Santarelli (ITA)
6. Curtis McDowald (USA)
7. Daniel Berta (HUN)
8. Byeungchan Jung (KOR)
Team
1. Hungary
2. Korea
3. Ukraine
4. Israel
5. France
6. Czech-Republic
7. China
8. Switzerland