On January 12, five-time US Olympic fencing coach Yury Gelman hosted the inaugural fundraiser, 'Artists and the Art of Fencing,' to benefit his charitable foundation at the Manhattan Fencing Club.
Aimed at providing children of various backgrounds and abilities the opportunity to take part in the sport, the event was a collaboration between five living artists and a number of high-level fencers to highlight the paths they have taken to achieve excellence in their respective disciplines.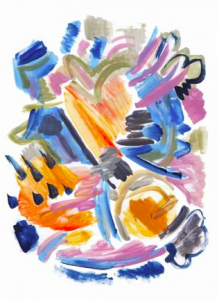 Art by Elizaveta Kudryavtseva
"I believe fencing and fine art are mirror forms of human excellence and achievement," says Yury Gelman.
"A fencer is an artist who masters their weapon the same way as an artist masters their chosen tool for creation."
Supporting the event were a number of America's current and previous elite-level fencers including Beijing silver medalists James Williams and Keeth Smart, Rio bronze medalists Dagmara Wozniak and Monica Aksamit, as well as a number of other internationally accredited athletes and university fencers who shared their experiences of competitive fencing as a means of academic achievement.
The art show featured work by Hali Nelson, a former Harvard fencer, whose pieces focus on the psychological connection between art and the viewer; Elizaveta Kudryavtseva from St. Petersburg, who donated a series of posters still available for sale; abstract artist Leonid Shoshensky, conceptualist Sergey Kir and promising young photographer Ana Ruff, who showed some of her recent images selected to the New York Times fellowship application.
On the night, $19,000 was raised from a combination of ticket sales and sales of the art on display. Guests took the opportunity to meet the artists and ask questions around the inspiration, creation and meaning of each piece. The event also included a cocktail reception, an award ceremony and a jazz concert that was hosted by Mr. Jeff Bukantz, a former high level fencer and president of Macabi USA.
Partners of the event were Uhlmann Fencing, who provided gifts and individual sponsorship to 7 students, Absolute Fencing Gear, who gave out gift certificates, and Betty K who awarded gifts to select female student athletes.
To support the foundation's work visit yurygelmanfoundation.org and go to 'shop' to purchase any of the art on display at the event.