Professor Zbigniew Czajkowski, dubbed the 'Father of the Polish School of Fencing', has died just two days after his 98th birthday on February 8th.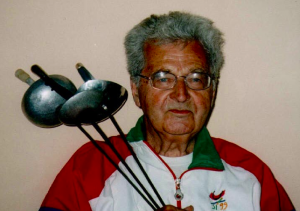 Known as an outstanding coach, teacher, researcher and personality, Czajkowski's life reads like a Hollywood movie script. Born in post-World War I Poland in 1921, he began fencing at the age of 13 with the Lviv Cadet Corps in neighboring Ukraine, but his ambitions for a competitive career were curtailed by the outbreak of World War II. Nevertheless, he would still go on to become a coach of immense reputation, famously coaching Poland's first-ever gold medal-winning Olympic fencer, Egon Franke, who won the foil in Tokyo in 1964.
Early Years
Enlisting in the Polish Navy to fight the Nazis at age 18, Czajkowski first saw military action against Soviet invaders near Baranowicze, in Belarus. Having already been arrested and released by the Soviets in late 1939, he was soon captured again — in April 1940 — this time at the Romanian border, while trying to return to France from Soviet-controlled Lwów
Czajkowski spent over a year in various Soviet prisons, including the notorious Vorkuta labour camp, beyond the polar circle, where he was routinely tortured and interrogated. During this time his main diversion was to visualize himself engaged in his favourite activity, and so he would hold a wooden spoon in his hand as though it were a sabre — his preferred weapon — and 'practice' fencing.
When relations temporarily improved with the Soviet Union in September 1941, Czajkowski was released from Vorkuta and went to Uzbekistan, where he worked for several months on cotton and rice plantations. He would soon rejoin the Polish Navy, however — on his 21st birthday — and would eventually remain stationed until the war's end at the Polish Naval base in Plymouth, in the United Kingdom.
Between the years 1942-44, Czajkowski took part in multiple battles on the English Channel and sailed the Mediterranean Sea and the Atlantic Ocean protecting valuable cargo. At the same time, while on-board, he was able to keep fencing, with training and competitions continuing amongst the often international crew.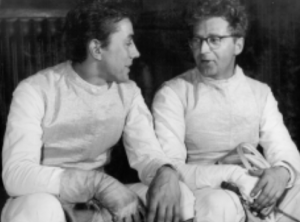 From Plymouth, after receiving leave from the Navy, he went to Edinburgh, Scotland and began studying medicine. It was here that he resumed fencing at club level for the University of Edinburgh and the Scottish Fencing Club. He also started coaching for the Polish Students Association of Great Britain. Coached by French swordsman Leonard Cronie, Czajkowski won the Academic Championship of Scotland and in 1948 a bronze at the Championships of Great Britain.
Life in Fencing
On his return to Poland along with his wife and son in 1949, and having begun his career in medicine, Czajkowski soon realised his calling lay elsewhere. 'Being a doctor is very depressing,' he once said, 'you're always surrounded by sick people.' He gave it up shortly after to concentrate on fencing.
In 1950, he became the first post-war champion of Poland in the foil, and at the age of 32 achieved his best result, a bronze in the team sabre event at the 1953 World Championships in Brussels. From there he went on to become a coach of impressive credential, producing countless champions of the sport for his country during a career that spanned more than four decades.
His list of alumni includes but is not limited to:
Bohdan Gonsior – 1968 Olympic team épée bronze, 1963 World Championship épée bronze and four-time Olympian (1960,64,68,72)
Egon Franke – 1964 Olympic Foil Champion and team silver medalist, 1968 Olympic team foil bronze
Elżbieta Cymerman – 1968 Olympian and nine-time Polish champion in foil
Jacek Bierkowski – Two-time Olympian (1976, 80) and 1975 World Championship silver in sabre
Magdalena Jeziorowska – 1996 European Epée Champion and 1994 World Championship team épée bronze
In addition to his medical degree, in 1984 Czajkowski obtained a PhD in Physical Education and picked up multiple honorary awards for his service to the sport. Indeed, his legacy of mentorship is still being felt today, especially in U.S fencing circles. In his role as the Director of the Fencing at the Academy of Physical Education in Katowice, Poland, he trained over one hundred master fencers, including Ed Korfantry, now the U.S national women's sabre coach, USFA Hall of Famer and five-time Olympian Michael Marx, who served as the U.S national women's épée coach, and countless others who have all made outstanding contributions to the sport.
Among the hundreds of academic journal articles published in his name, he has also written thirty books, including Understanding Fencing – The Unity of Theory and Practice, which was published as recently as 2005 in the United States.
In 2004 he was bestowed an honorary doctorate from the Academy of Physical Education in Katowice, he is an honorary member of the British Fencing Academy, a holder of the Knight's Cross, Commander's Cross and was awarded membership into the Order of the Rebirth of Poland.
Until his death he continued to lecture and attend trainings at GKS 'Piast' Giliwice, the club in Poland where he began to build his dynasty of champion fencers in the early 1950s. He also continued to follow the words of the famous 16th-century surgeon, Ambroise Pare, who once said; "No effort is too great for a man who loves his art." This was how Czajkowski felt about his beloved sport of fencing.
Zbigniew Czajkowski 1921-2019