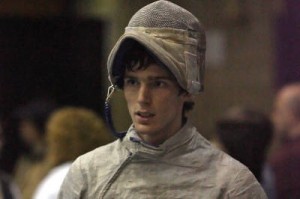 NEW YORK – Senior fencer Jeff Spear of Columbia is the 2010 ESPN The Magazine Academic All-America of the Year in the Men's At-Large Program, it was announced on Tuesday morning.
An Evolutionary Biology of Human Species major with a 4.07 G.P.A., Spear is a three-time All-American who also earned first team All-Ivy League honors three times. He received the 2010 NCAA Elite 88 award for fencing, which is presented to the student-athlete with the highest cumulative G.P.A. participating at the finals site for each of the NCAA's 88 championships. The 2008 NCAA champion, Spear finished seventh at the NCAA Championships this year and took second place at the regional.
A native of Wynantskill, N.Y., Spear completed his career with a 143-46 record in sabre. He is a two-time Intercollegiate Fencing Association gold medalist and was awarded an NCAA postgraduate scholarship this year. He is the first Lion to be awarded with an NCAA postgraduate scholarship since 2007. He is the only repeat selection on the 2010 ESPN The Magazine Academic All-America® Men's At-Large University Division first team.
The Men's At-Large program for the Academic All-America® includes the sports of fencing, golf, gymnastics, ice hockey, lacrosse, rifle, skiing, tennis and water polo.
Spear graduated from Columbia College in May as the class salutatorian.  He is the first Columbia student-athlete to be named Academic All-America of the Year in any category.  Spear now is one of ten Division I student-athletes eligible for the overall Academic All-American of the Year prize in the University Division.
Photo: Courtesy: Columbia University Athletics/Gene Boyars
Source: Columbia University