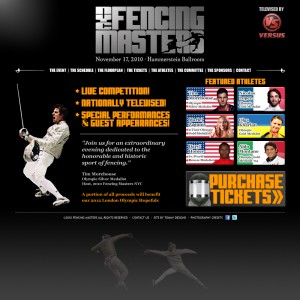 Wouldn't it be great to get fencing on television?
That's the thought and question that has driven Tim Morehouse and the development of this new fencing tournament: Fencing Masters NYC.  In that time, Morehouse has used his Olympic fame and contacts within the sport's elite to put together a high profile gala fencing event to be held in New York City this November.
The fencing tournament will feature Team Europe vs. Team USA in an 8 man direct elimination event.
Team Europe will feature Aldo Montano (ITA), Nicolas Lopez (FRA), Jaime Marti (ESP) and Alex O'Connell (GBR).  They will face off against 4 of the best fencers in the USA in a direct elimination tournament which will be televised in a one hour production.
US fencers in the men's event will include Tim Morehouse, Ben Igoe, and Daryl Home.
Two time Olympic Gold Medalist Mariel Zagunis and Ukrainian fencer Olga Kharlan are also slated to participate in the event.
In comments on the Fencing.Net Forum, Morehouse stated that a portion of the ticket sales and sponsorship dollars collected at the event would go to pay for the production costs of getting the tournament edited to a 1 hour show to air on Versus.
Morehouse is promoting the event even further by leaving one of Team USA's spots open to a contender. "We're going to leave one USA fencer spot open for someone to qualify for via a series of competitions we'd like to hold in conjunction with local clubs" said Morehouse.
So far a number of fencing clubs including the Royal Arts Academy, Manhattan Fencing Center, and NYAC have signed on to host these local qualifying events (links are to their events on AskFRED).  The winners of the qualifying events will fence off before the main event at the Fencing Masters NYC: Club Champions Tournament. The winner of the Club Champions tournament receives a $1000 training grant and a spot on the 4 person US team.  They would get to fence against either Olympic Champion Aldo Montano or Nicolas Lopez in the round of 8.
This isn't the first high profile "Pro-Am" type of tournament.  Just recently Z Fencing in Singapore hosted a foil event.  Personally, I hope that this tournament is a success: more chances to get good fencing on TV and a doorway for our fencers to actually be able to afford to fence!