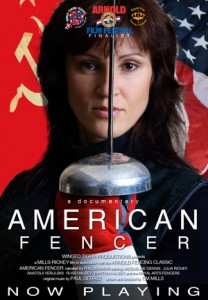 This year marked the debut of the first annual Arnold Sports Film Festival. The film festival was run in partnership with Campus MovieFest and had 150 entries from 30 countries. There was also a high school division of 40 films. Films were under fifteen minutes in length with the goal of showing what inspires athletes.
American Fencer made it to the final five. "All of the other finalists were made by professionals and not two crazy fencing coaches," Julia Richey, the subject of the film, said of the accomplishment. "The other filmmakers were very interested in how we made a film like this with limited resources."
The film premiered March 5th, 2011, and was the only fencing movie to make the final cut. The other finalists were about bodybuilding and one about a gay rugby team.
American Fencer is a short film chronicling the life of Richey. This is the story of a young girl discovering fencing in the former Soviet Union and being willing to give up the sport she loved to come to America. Once there, she discovered she could have fencing in America, although she needed overcome great personal hardships to produce national champions and host one of the largest, most well-known fencing tournaments in the world.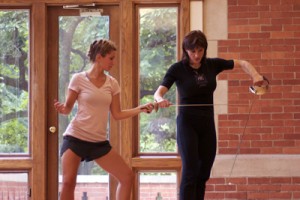 Richey, describing herself as "the most proud American," arrived in the US in 1999 with a seven-year-old daughter to discover that America wasn't what either of them thought it would be. It was better. Along the way, she started a fencing club and became the chair of the Arnold Fencing Classic. In fact, most of her American life the Arnold Sports Festival has been a part of it.
Most of the cast and crew were fencers including writer/director Tim Mills, score composer Paul Geraci and most of the Royal Arts Fencing Academy of Columbus. The film is now making rounds of the short film festival circuit. Mills has next year's entry in pre-production. It, too, will be about fencing.
Fencing has been a part of the Arnold Sports Festival since 2004. The Arnold is the largest multi-sport festival in the nation with 45 sports, 18,000 athletes and 175,000 spectators. Its namesake Arnold Schwarzenegger holds the event the first weekend of March every year in Columbus, Ohio. Richey is the chair of the event and Mills is the Director of Operations. Together they run Royal Arts Fencing Academy.