Here is the best I could find on YouTube for the fencing scene from The Parent Trap. Enjoy!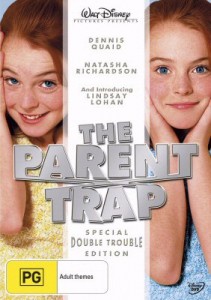 Disney, 1998, PG runs 127 minutes:
Hallie Parker and Annie James are identical twins separated at a young age because of their parents' divorce. The girls are sent to the same summer camp where they meet, discover the truth about themselves, and then plot with each other to switch places.
Hallie meets her mother, and Annie meets her father for the first time in years. The twins then conspire to set up their parents, which suddenly goes awry with an announcement from their father who is about to get remarried. The twins then set forth to break up the engagement.
Photo of the fencing scene found on this post from Tim Morehouse