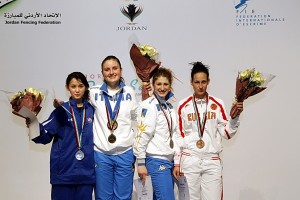 Lee Kiefer earned the first medal for Team USA at the 2011 Cadet and Junior World Championships by placing 2nd in the Cadet Women's Foil event.  Kiefer fell to Italian foilist Camilla Mancini in the final bout by a 15-11 score.
Joining Mancini and Kiefer on the medal stand were Martina Singalia (ITA) and Evgenia Nebieridze (RUS).
Kiefer started the day strong winning all 5 of her preliminary bouts and only giving up 7 touches to put her at 3rd after the preliminary round.  She then stormed through her elimination matches winning all by a comfortable margin until she got to the finals to face Mancini.
Russian fencer Evgenia Nebieridze fell 15-5 to Kiefer, but not before taking out the other two US fencers.  The Russian foilist defeated Margaret Lu 15-11 in the round of 16 and Jacqueline Dubrovich (USA) 11-10 in the round of 8.  Lu finished 9th and Dubrovich 6th.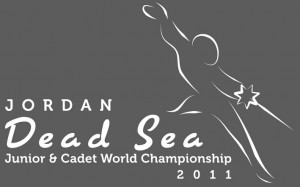 Mona Shaito, fencing for Lebanon, started the day badly with a 2-3 pool result, but turned it around in the direct eliminations, winning two bouts before falling to Fuzsina Golya (HUN) 15-14.  Shaito finished 16th.
In the Cadet Men's Sabre event Ho Jin Chung (KOR) defeated Luca Curatoli (ITA) 15-13 to claim the world championship title.  The United States placed 3 fencers in the top-16 with Peter Pak taking 6th, Geoffrey Loss 9th and Eli Dershwitz 12th.
Pak started the day 3-2 in the preliminaries but strung together 3 victories in elimination matches before losing a heartbreaking 15-14 bout to Leonardo Affede (ITA) in the top-8.  Loss won all 6 of his preliminary bouts and dispatched his first elimination opponent 15-6.  He ran into Mikheil Mardaleishvili (GEO) in the round of 16 and lost that bout 15-11.  Dershwitz was another heartbreaker for the US, going 4-1 in the prelims and winning his first elimination match, but losing 15-14 to Yannick Oberkirch (GER).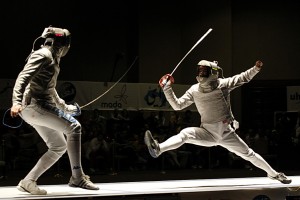 Final Results: Top 8 Cadet Women's Foil:
1. ITA MANCINI Camilla
2. USA KIEFER Lee
3. ITA SINIGALIA Martina
3. RUS NEBIERIDZE Evgenia
5. ITA PALUMBO Francesca
6. USA DUBROVICH Jacqueline
7. HUN SZALAI Szonja
8. HUN GOLYA Fruzsina
9. USA LU Margaret
Final Results: Top-8 Cadet Men's Sabre
1. KOR CHUNG Ho Jin
2. ITA CURATOLI Luca
3. GEO MARDALEISHVILI Mikheil
3. ITA AFFEDE Leonardo
5. UKR STATSENKO Oleksiy
6. USA PAK Peter
7. GER OBERKIRCH Yannick
8. HUN SINGER Martin
9. USA LOSS Geoffrey
12. USA DERSHWITZ Eli