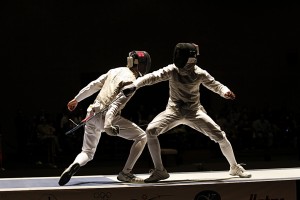 Massialas adds Gold into the Men's Foil to the US Medal total.  Van Brummen places 5th to lead the US in Women's Epee.
Alexander Massialas convincingly won the gold medal at the 2011 Cadet World Championships in Men's Foil with a 15-5 victory over Georg Dorr (GER) in the finals.  Ilya Degtyarev (RUS) and Alexander Choupenitch (CZE) earned bronze.
Massialas started the day with a decisive set of preliminary pools bouts, winning all 6 bouts with a total of 7 touches scored against him.  That set him up as the #3 seed into the elimination tables.  During the competition, his most difficult bout would be from teammate Nobuo Bravo, who faced off against Massialas in the top-16.  Massialas scraped by that bout with a 15-14 victory.  Bravo would be the only fencer today to get into double-digits against Massialas.
In his other bouts, Massialas won by an average of 10 points.  After Bravo, the closest anyone got was a 15-7 bout with Degtyarev.
Jerry Chang, the 3rd US fencer in the event, seeded 9th out of pools but fell in the round of 32 to Andre Raisch (GER) 15-6.
Cadet Men's Foil: Final Results (Top 8 + US Placements)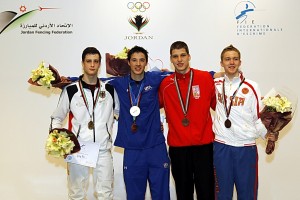 1.     USA MASSIALAS Alexander
2.     GER DÖRR Georg
3.     CZE CHOUPENITCH Alexander
3.     RUS DEGTYAREV Ilya
5.     ITA MAROTTA Francesco
6.     HUN MATYAS Balint
7.     GBR ARCHER Kristjan
8.     UKR DOLZHENKO Bogdan
10.     USA BRAVO Nobuo
18.     USA CHANG Jerry
Cadet Women's Epee
Anna Van Brummen led the US contingent with a 5th place finish in Cadet Women's Epee.  Her medal bid was stopped short by eventual bronze medalist Yulia Bakhareva (RUS) 15-9 in the quarter-finals.  Van Brummen entered the elimination table as the #2 seed after posting a perfect 6-0 record in the preliminary round.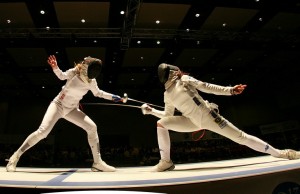 Sheng Lin (CHN) won the gold medal for the event, defeating Alona Komarov (ISR) 15-8 in the final.  Bronze medals were earned by Bakhareva (RUS) and Alberta Santuccio (ITA).
The rest of the US team were knocked out of the competition in the top-64.  Audrey Abend earned the 7th seeding into the elimination table with a 5-1 prelim record, but got into a 4-1 hole early in her bout against Daniela Khrapina (RUS) and was never able to recover, losing 15-6.  Jessie Radanovich went 3-3 and was seeded in the middle of the table at 39th.  She fell to Nickol Tal 15-11.
Cadet Women's Epee: Final Placement (Top 8 + US Finishes)
1.     CHN LIN Sheng
2.     ISR KOMAROV Alona
3.     ITA SANTUCCIO Alberta
3.     RUS BAKHAREVA Yulia
5.     USA VAN BRUMMEN Anna
6.     RUS KHRAPINA Violetta
7.     ISR STRELNIKOV Daria
8.     BRA SIMEAO Amanda
33.     USA ABEND Audrey
44.     USA RADANOVICH Jessie