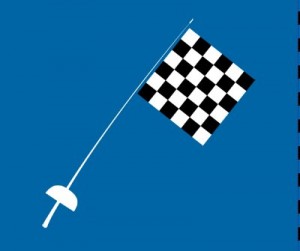 Max Heinzer (SUI) defeated Geza Imre (HUN) 15-11 in the finals of the Men's Epee Grand Prix de Berne.  Top fencers were knocked out early as Gauthier Grumier (FRA) was the only fencer in the top-10 of the FIE World Rankings to make it to the quarter-final round.
Seth Kelsey made it to the top-16 where he lost to Grumier 15-10.  Grumier was also the downfall of Cody Mattern in the round of 32 where the score was 15-7.
Heinzer took advantage of upsets within his bracket as #3 Nikolai Novosjolov (EST) lost in the 64, leaving Heinzer as the top seed up in his matches until the final 8.  In the 8 he faced #95 seed Dmitriy Karuchenko (UKR) and won 15-11 then beat Alfredo Rota (ITA) 15-8.  Karuchenko also benefited from a round of 64 upset of #5 Pavel Sukhov (RUS) but also made his own luck defeating #11 Martin Schmitt (GER) in the opening round.
Full results, including pools and preliminary DE tables are available at the host web site: http://www.gp-bern.ch/drupal/?q=en/node/149
Final Results (Top 8 plus USA Finishes)
The world rankings shown in this table represent the ranks prior to the Berne Grand Prix.  The FIE site does not currently reflect any changes in the point standings from this event.  Later this week we'll go over all of the rankings and how they are impacting the race for Olympic qualification.  [Top 64 Table Download]
| | | | | |
| --- | --- | --- | --- | --- |
| Rank | Pts | Name | Country | Current WR (Pre-WC) |
| 1 | 48 | HEINZER Max | SUI | 14 |
| 2 | 39 | IMRE Geza | HUN | 12 |
| 3 | 30 | ROTA Alfredo | ITA | 10 |
| 3 | 30 | GRUMIER Gauthier | FRA | 2 |
| 5 | 21 | PIZZO Paolo | ITA | 13 |
| 6 | 21 | BOREL Yannick | FRA | 51 |
| 7 | 21 | KARUCHENKO Dmitriy | UKR | 30 |
| 8 | 21 | JUNG Seung Hwa | KOR | 18 |
| | | | | |
| 12 | 12 | KELSEY Weston | USA | 15 |
| 25 | 6 | MATTERN Cody | USA | 57 |
| 68 | 0 | THOMPSON Soren | USA | 44 |
| 117 | 0 | MOODY Jimmy | USA | 120 |
| 128 | 0 | TSINIS Alexander | USA | 221 |
| 169 | 0 | SHERRILL Teddy | USA | 872 |
| 172 | 0 | BRATTON Benjamin | USA | 43 |
| 195 | 0 | VOMERO Nicholas | USA | 295 |