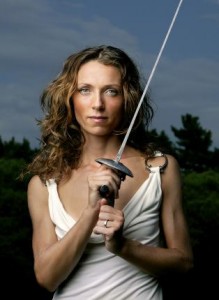 Valentina Vezzali (ITA) cruised through the opening rounds of the St. Petersburg World Cup, outscoring her first 3 opponents 45-12.  She faced more of a challenge in the semi-finals when she defeated Hyun-Hee Nam (KOR) 14-12 and then faced off against teammate Arianna Errigo (ITA) for a 15-11 final match.
The other semifinal match featured Errigo defeating Elisa Di Francisca (ITA) 15-12.
The top US finish was a top-32 result by Nicole Ross.  Ross won her opening round match against Gebet (FRA) 15-9 and then fell 15-9 to Nam.  The top-32 result places Ross at 4th in the US Team standings for selection to the national team for the Pan Am Championships this July in Reno and the World Championships this fall.
Italy locked up the finals of both the men's and women's foil events in Russia as Andrea Baldini (ITA) won the men's event with Andrea Cassara (ITA) coming in 2nd.
4 other US fencers fell in their top-64 matches.
Ambika Singh lost 15-8 to Ikehata (JPN).  Lee Kiefer an 11-10 match to Kreiss (HUN).  Doris Willette lost 15-9 to #19 Liu (CHN) and Prescod lost 13-9 to 34th seed D. Yakovleva (RUS).
In tomorrow's team event Italy is the top seed.  Team USA is 5th and will face Canada in their opening round match.  A win by USA against Canada gives them a potential match against Poland.
Results can be followed online at: http://fencingonline.ru/
Video Highlights:
Final touches: Vezzali vs. Nam
Top Results: St. Petersburg Women's Foil.  June 6th, 2011
| | | | |
| --- | --- | --- | --- |
| Rank | Name | Country | Current WR |
| 1 | VEZZALI Valentina | ITA | 1 |
| 2 | ERRIGO Arianna | ITA | 4 |
| 3 | DI FRANCISCA Elisa | ITA | 2 |
| 3 | NAM Hyun Hee | KOR | 3 |
| 5 | LAMONOVA Eugyenia | RUS | 11 |
| 6 | DERIGLAZOVA Inna | RUS | 13 |
| 7 | DURANDO Benedetta | ITA | 37 |
| 8 | CIPRIANI Valentina | ITA | 77 |
| | | | |
| 26 | ROSS Nicole | USA | 73 |
| 36 | KIEFER Lee | USA | 15 |
| 42 | PRESCOD Nzingha | USA | 22 |
| 50 | SINGH Ambika | USA | 69 |
| 51 | WILLETTE Doris | USA | 25 |
| 66 | CROSS Emily | USA | 103 |
| 88 | LU Margaret | USA | 100 |
| 110 | NOTT Adrienne | USA | 200 |
| 114 | YUH Hyun-Kyung | USA | 311 |