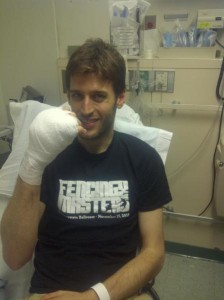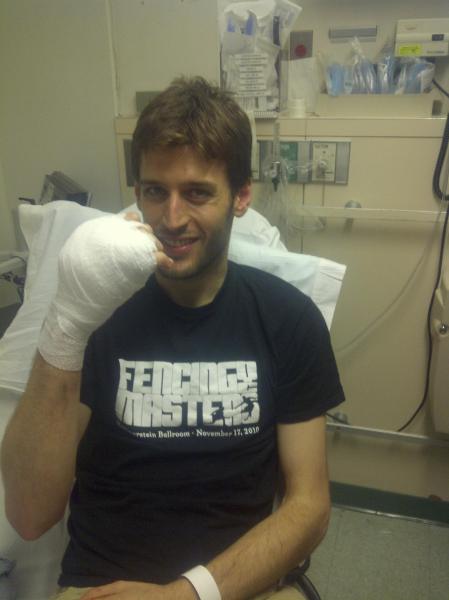 Jaime Marti (ESP) was injured during training for the NYC World Cup and will not be able to fence in the event.  The Spanish Olympian had an unbroken sabre blade go through his hand.
Marti is currently ranked 14th in the FIE point standings for Men's Sabre and his last three results in World Cup events were 9th, 11th, and 20th.  Based on the current team standings, Marti will need to keep well in individual competition to qualify for the individual portion of the 2012 Olympic Games.
Tim Morehouse reported on his blog that Marti was injured when a sabre blade punctured his fencing glove and went through Marti's hand.  Marti was wearing a glove with no holes and the sabre blade was unbroken.  Fortunately there was no nerve damage.
"This injury is just another example that the gloves do not meet a good safety standard." said Morehouse in his blog.
In March, the FIE issued some rules on checking the gloves as a stopgap measure to improve fencer safety.  Just last week the FIE SEMI commission met in Rome, Italy.  The representatives of the FIE commission discussed items concerning the safety in saber with special emphasis on equipment and materials.
Marti will miss the NYC World Cup and Spanish National Championships.  He hopes to be able to compete in the European Championships.