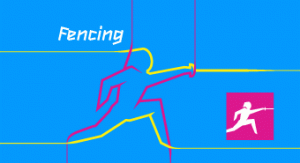 Teams at the 2012 Olympic Games will have a freer hand in making substitutions during team matches than they have in Games past.
The June 25th Executive Committee meeting of the FIE reported that the International Olympic Committee (IOC) approved the FIE's request that team matches at the Olympics be rules by the same substitution rules as World Cup events.  This means that teams may substitute their alternate during a match for tactical reasons.
In the past, a fencer had to be substituted before the team match began, or could only be entered due to a verified injury to one of the starters.
At the 2008 Olympic Games in Beijing, US alternates Dagmara Wozniak (Women's Sabre) and Doris Willette (Women's Foil) did not compete and therefore, did not earn medals with their teammates because there was no viable way to substitute them in during their medal matches.  All 4 US  Men's Sabre fencers received medals due to the substitution of James Williams for Jason Rogers prior to the start of the Gold Medal match vs. France.
The French Men's Epee team also had their alternate fencers shut out of competition even as Jerome Jeannet displayed an injury to his hand.  The on-site doctor stated that Jeannet could wield his epee, so the team's request to replace him with alternate Jean-Michel Lucenay was denied.
The new rule will allow for an alternate to be substituted during the match, but there is only one substitution allowed for the duration of the competition.  The new rule reads:
1. Substitute, at the 2012 London Olympic Games
Please find attached the procedure approved by the IOC.
At the express request of the FIE, the IOC has accepted to grant fencing the following: the tactical
change may happen before the start or during a team match (cf. o.44.10.a). In any case, the
substitution of a fencer is allowed only once during the competition, whether for injury or tactical
reasons.