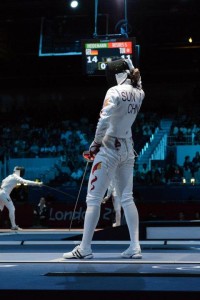 2008 Olympic Gold Medalist Britta Heidemann (GER) survives through to the semi-finals and a chance at a repeat.
Top ranked Yujie Sun (CHN) will join Heidemann along with upset minded Yana Shemyakina (UKR) and A Lam Shin (KOR).
It took an overtime win over challenger Rosselia Fiamingo (ITA), but Yujie Sun advanced to the medal rounds 15-14.  Sun was down early in the match but slowly climbed back to a 9-9 tie at the end of the second period.  In the 3rd period Fiamingo again threatened, going up 2 touches (13-11), but Sun was able to score two and then a double-touch to tie the match at 14.  In the final overtime, Sun had priority and scored with 4 seconds left.
Her opponent in the semi-finals will be Shemyakina (UKR), who used well timed counter-attacks to defeat #5 seed Ana Maria Branza (ROU) 14-13 and then #4 Simona Gherman (ROU) 15-14.
Heidemann fights from the other half of the bracket after defeating Li Na (CHN) in the 16.  The match started with a non-combativity call that moved the bout to the second period.  The second period stayed slow and Heidemann held a 3-2 advantage.  Then the 3rd period heated up with 22 touches scored as Heidemann went out to a 9-6 lead and worked to hold off a final charge by Na.  Tied at 13, Heidemann went ahead one and backed off to let the final seconds run off the clock to secure the win.
Heidemann's next bout with Sarra Besbes (TUN) would be a bit more comfortable as Heidemann held a one touch lead at the end of the second period, then extended it to 3 before closing the bout 15-12.
Germany's Heidemann says took some time to figure out Besbes and her tempo as first time fencing her. Comes away with win to top 4. #fencing

— Daniel Bases (@djbasesfencing) July 30, 2012
A Lam Shin (KOR) will face off against Heidemann and looks to continue winning upset matches.  She has already knocked out 6th seed Monika Sozanska (GER) and 3rd seeded Anca Maroiu (ROU).
All in all, the world #1 Romanian team were knocked out by the 11th and 12th seeds into the tournament.
Lam and Shemyakina are both surprises for the 4, considering they eliminated the Romanian team and 6-seed Sozanka to get here. #fencing

— Stéfanie Engström (@intentionalbird) July 30, 2012
The semi-finals will run at 1pm Eastern time with the bronze at 2:10 and the gold scheduled for 2:30.
Early round upsets and US results:
In the round of 32 the upsets were provided by USA's Maya Lawrence who knocked out #9 Mara Navarria (ITA) and Sarra Besbes (TUN) who defeated #7 Lou Xiaojuan (CHN).  Lawrence then fell to Italy's Fiamingo 15-7.
Courtney Hurley (USA) fell to Laura Flessel-Colovic (FRA).  Hurley fought with "the Wasp" to a 7-7 tie, but the veteran French fencer was able to pull back ahead and win the bout 15-12.  Susie Scanlan (USA) lost a tightly fought opening round match to Olena Kryvytska (UKR) 15-13.